Waikato equestrian star looking unstoppable at head of the FEI Classics table.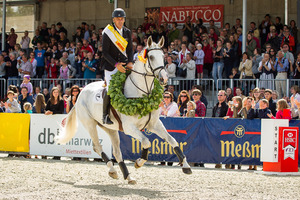 Andrew Nicholson's remarkable eventing success over the past year has raised the bar for New Zealand riders aiming for the top.
His win at the four star Luhmuhlen event in Germany yesterday means he's unstoppable at the head of the FEI Classics table, with 55 points. Britain's William Fox-Pitt is second, on 36 points, and there's a maximum 15 points on offer for the winner of the sixth and final classic event, at Burghley in September, leaving Nicholson on track to pocket US$150,000 ($185,000).
Nicholson had a clear round aboard Mr Cruise Control to win ahead of Zara Phillips on High Kingdom, 1.7 penalty points back.
It follows wins at Burghley last year in the final event of the 2012 classic season on Avebury; then Pau, in France late last year on Nereo; at the Kentucky event in April on Quimbo and now Luhmuhlen.
Four titles, four different horses and Equestrian New Zealand's high performance manager Sarah Harris is delighted.
"Andrew's lifting the bar to another level for our programme," she said yesterday. "Everyone else sets their targets around that. Everyone wants to be in the top five in the world. Andrew is No1 and it's fantastic it's one of our guys they want to beat."
With Nicholson, double Olympic champion Mark Todd and Badminton winner Jock Paget setting the pace - Nicholson took third at that event too - New Zealand is fast becoming the country to beat.
That will be put to the test at Aachen, Germany in the Nations Cup next week. New Zealand will field a team of Nicholson, Paget, Jonelle Richards - that pair's fellow Olympic bronze medallist from London last year - and Clark Johnstone, who was third at Bramham International this month on Incognito, with Megan Heath competing as an individual.
It hasn't all been rosy for the former Kihikihi horseman, who has been based in England for the best part of 30 years. His success has been years in the making.
"He's a classic example of where an athlete has been through some pretty tough times and just keeps working really hard," Harris said.
"He's got a really good programme around him, has excellent horse power, loyal owners and he operates with a tight team and knows the way ahead."
Nicholson and Todd are talismanic figures for the up and coming New Zealand riders.
"He's so supportive for our younger riders. He's got a wealth of experience and knowledge," Harris said of Marlborough-based Nicholson.
"When they go to big competitions he's the first one out walking the course with them, offering advice and it's fantastic for our programme to have leaders like him and Mark."
At this stage, New Zealand will have a strong presence at Burghley as Nicholson chases a fourth crown at the Lincolnshire event, which the leading riders privately rate as a superior test of horse and rider to the more prestigious Badminton.
Nicholson and Paget are likely to have two starters, Todd at least one, while Richards, Caroline Powell - the fifth Olympic bronze medal team member - and Johnstone will all have at least one entrant.
Richards and Flintstar finished eighth at Luhmuhlen while Paget and Bullet Proof withdrew before the cross-country. Just 32 of the field of 50 completed all three disciplines.
FEI Classic leaderboard
Andrew Nicholson (NZ) 55 pts
William Fox Pitt (Britain) 36 pts
Jock Paget (NZ) 27 pts
Michael Jung (Germany) 22 pts
Craig Barrett (Australia)15 pts