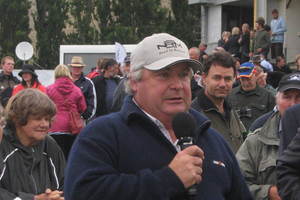 Yaldhurst trainer Michael Pitman is immensely proud of his season, even if he expects his nine-win lead in the national trainers' premiership to evaporate before the end of July.
His rival Lisa Latta - who has stables at Awapuni and Riccarton - was sitting on 72 wins going into yesterday's Egmont races at Hawera, but could not claw back the margin with any of her nine runners.
With a maximum of nine South Island meetings for Pitman to add to his tally of 81, the weather is not helping his quest to stay in front, with Oamaru on Thursday and Riccarton on Saturday under some doubt.
"We have a very small racing team - about 14 to 16 horses total for the rest of the season," Pitman said.
"[Latta has] probably had 40 different horses lining up in the past three days. If she wins a race a day, she'll end up beating me by four wins now."
Pitman's guess was not far off, as Latta has had 32 horses line up between Wanganui last Thursday and Hawera yesterday.
The remarkable statistic is the lack of a stakes win in Pitman's record this season. "We've had a huge season for the horses we've had. We haven't had a stakes winner this season, because we haven't horses that were good enough," he said. "We've won a lot of races with average horses."
One horse he had stakes hopes with was Berenice.
"I still think Berenice was dead unlucky. She pulled up sore after running second to Platinum Kingdom - that's one of the lowlights of the season as I think she could have won the filly-of-the-year series."
Pitman has not waved the white flag just yet, but he is reliant on a few meetings getting off the ground and the weather playing its part, particularly for Ruby Red, who has won her past two races on dead tracks.
"She'll go to Waimate if it's a good track and I've got a nice team in at Riccarton if it runs - and I really hope they do, because I've got horses in that will love it wet."
Pitman has won the national premiership twice - in the 2007/08 season and in the 2010/11 season, when he reached a century of wins, picking up 105 over the season.
He would certainly welcome another title, but has his owners in mind.
"It's all about trying to optimise stakemoney. Even when I've won the premiership before, each time I've won races at the Grand National carnival [in August] because the money is three or four times better.
"It's not the be all and end all but I'd love to win it. Whether I can or not, it's a 50:50 call."