Inspection chamber which caused Buckles to fall thought to date back to the 1940s.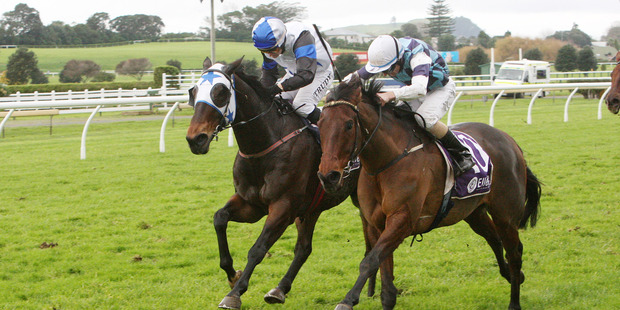 The hole in the Ellerslie track is almost certainly an inspection chamber for a waste water drain that could date back to the war years.
That was the conclusion yesterday when engineers from Harrison Grierson inspected the cavity which was exposed during Saturday's meeting at Ellerslie.
"It's wonderful that we've got at least some answers to the mystery that nearly caused a catastrophic accident," said Auckland Racing Club boss Cameron George last night.
"The hole has been identified as an inspection chamber for the main Watercare sewer line that runs 6m below the surface of the track. The advice of Harrison Grierson suggests the isolated problem has been caused by the cap of this access chamber perishing over time."
George said the following is being undertaken:
•Engage Harrison Grierson to conduct a full survey of the racecourse to ascertain and confirm the location of all access chambers.
•Work with Watercare in the immediate future to remedy the cap to the access chamber at approximately the 1200m.
•Conclude contacting all trainers who had runners engaged to compete in Race 8 and advise of the ARC's commitment to compensation.
•Compensate the connections of Buckles which fell in race seven.
Cambridge trainer Sally Marshall confirmed that Buckles was fine after the incident. "If it happened to any horse it may as well happen to Buckles because he's tough.
"If a vulnerable horse like a filly had been involved they may have a problem thinking about that fall, but this bloke just wants to get out there and race. I'll be surprised if he's thinking about it.
"I'm just delighted Rogan [Norvall] came out of it unharmed."
Norvall visited his osteopath, fellow South African Gary Mikkelsen, in Cambridge yesterday then shouted himself a beer to celebrate his good fortune, announcing he will be fine to ride at Te Aroha tomorrow.