Northern Districts all-rounder shapes as contender to challenge the likes of Franklin for a spot in starting XI.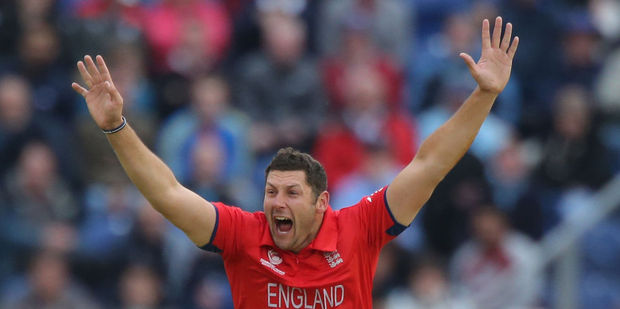 New Zealand cricket fans finally got their chance to see why there's so much fuss about Corey Anderson yesterday.
With New Zealand reeling at 62 for five in the 14th of 24 possible overs chasing 170 against England, the 22-year-old strode to the wicket on ODI debut to partner former age-group rival Kane Williamson.
They put on 73 for the sixth wicket, Williamson making 67 off 54 balls, in a heroic but ultimately fruitless rearguard action which saw New Zealand finish 10 runs short after an erratic fielding display in Cardiff.
Anderson thumped 30 runs off 24 balls, having been called into the squad for the injured Grant Elliott that morning. Captain Brendon McCullum opted for Anderson in the starting XI over Doug Bracewell and Ian Butler as replacements for Tim Southee. McCullum justified the decision as going "for a straight all-rounder who could bowl at reasonable pace and bat at No7".
Anderson conceded four runs from one over with the ball but met expectations with the bat. The highlight was a six clubbed over long on towards the River Taff off spin bowler James Tredwell.
"I was thinking it would be nice to hit a six in an international game and finally one came out of the screws," Anderson said. "It got me away, then Kane batted unbelievably to try to get us back into the match.
"We both play for ND and I've seen Kane from when he was a young kid. We've batted a few times together and I was confident that if he could keep nurdling it around and we hit the odd boundary then we'd go close."
The Northern Districts all-rounder shapes as a contender to challenge the likes of James Franklin for a spot in the starting XI. Franklin has struggled for runs and wickets during the Champions Trophy and England series.
Anderson is happy donning coloured clothing but has an objective beyond that with New Zealand struggling to fill the test all-rounder void in Daniel Vettori's absence.
"New Zealand's probably been calling out for [a pace bowler all-rounder] since Chris Cairns left. I'd say I'm a batting all-rounder at the moment.
"I've had a lot of injuries and my bowling has only come along in the last year and a half. If I can play more consecutive games over a couple of years then I might become a genuine all-rounder but for now I'm a batsman who bowls fourth change. I'd like to establish myself in that No6 spot.
"Because I'm a harder hitter people pigeonhole me as a limited overs player. The pinnacle is still playing test matches. That's the ultimate dream."
On March 12, 2007, aged 16 years and 89 days, Anderson became the youngest New Zealander in 59 years to play first-class cricket when he debuted for Canterbury against Central Districts. Former test player Noel McGregor was three days younger when he appeared for Otago against Fiji in 1948.
"The first game I played for New Zealand I was packing myself, but this time [for his ODI debut] I didn't have those same nerves because I'd been in the mix and around the guys for a while," Anderson said.
Brendon McCullum reflected on a tournament where the side's fate now hung on Australia narrowly beating Sri Lanka early today. New Zealand can only go through on run rate.
"We bowled brilliantly, fielded okay and our batting needs work. We had an opportunity today and passed it up," he said.
"They bowled brilliantly at the start with good pace and put us under pressure. It's testament to the way Kane and Corey [Anderson] played that we got as close as we did. I thought Corey did a great job [on ODI debut] with limited opportunity. He showed encouraging signs. For a little while, I thought they were going to get it done."
Williamson's dismissal was the turning point. Debate surrounded whether bowler Stuart Broad's foot had been behind the popping crease when the New Zealander hit a steepler to cover. A no-ball check said it was, but it was far from definitive.
Ross Taylor's dismissal, using the team's sole decision review after being adjudged lbw to Tim Bresnan, exposing the middle order. The way Taylor instantly chose to review gave the impression he must have hit the cover off it. He hadn't.