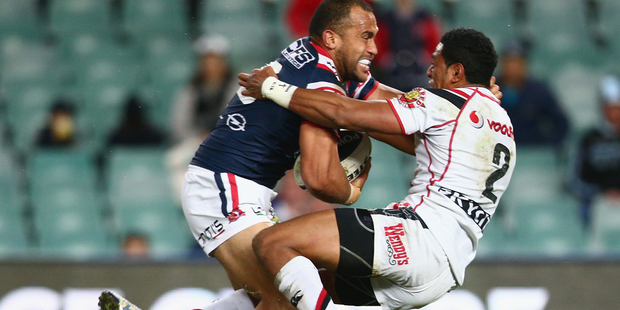 After recording their first four-game winning streak since 2011, you would expect the bye week to be an unwelcome momentum killer for the New Zealand Warriors but coach Matt Elliott says the break has come at just the right time.
The Warriors' 23-12 victory over the Sydney Roosters last night lifted the side to 11th on the NRL table with another two points added to their season tally of 12 when they put their feet up this weekend.
After two brutal encounters in the last fortnight, it's easy to see why Elliott and his side will enjoy the break which comes after playing 14 straight games, including just as many flights across the Tasman.
It only gets harder for one of the competition's in-form teams. Up ahead lie challenging matches against the Broncos at home and a road trip to the table-topping Rabbitohs - which will be followed by their second and final bye.
"We're pretty lucky that we've got the bye next week,'' said a proud Elliott after last night's victory over the third-placed Roosters - the second top-four scalp for the Warriors in as many weeks.
"I wouldn't say that structurally we got everything right that we wanted to but we played a pretty good team, let's be honest about it.They're a top-four team. Just the effort and resolve, the resilience to actually come up with that result was just a marvel. The players should be really proud of themselves.''
Despite the recent winning streak the long run of games looks to have taken its toll, most noticeably on two of their key players. Manu Vatuvei was left with a slight hamstring issue following an 80-metre try, while playmaker Shaun Johnson went into the match with a groin niggle which saw him give up the kicking duties - but it didn't stop him from slotting a field goal in the closing stages.
Fullback Kevin Locke, originally named in the side but withdrawn due to a hip flexor injury, will should be available to play the Broncos.
As the side might quietly reflect on the first part of the season it would be easy to focus on the 62-6 defeat to the Panthers in week 10 as a turning point, however Elliott said that their last defeat wasn't the catalyst for their winning run.
"I can understand that [Panthers' loss] being a reference point, I really do, but people don't often talk about the six weeks prior where we were building. We got in that situation quite often six weeks prior where we were leading into the 70th minute and didn't win and that really took its toll.
"We've obviously got plenty of work to do. We can't win like that every week or we'll be 70kg by the end of the season. I probably shouldn't be saying that, I should just be recognising the fantastic effort the players put in tonight for each other.''
Elliott might not want to win like that each week but five weeks ago he'd be happy with any type of win. He now heads into the bye week with a lot more job security then he did two months ago.
Solid defence and the ability to close out games have quickly become traits of this Warriors side, two qualities they clearly struggled with earlier in the season. Nathan Friend led the way again with 50 tackles, while Elijah Taylor and Simon Mannering both topped 30 as the Warriors held the third highest scoring teams to just two tries.
"Defence is more about mentality, we always talk about defensive attitude. The attitude tonight, to find a way was what we need to be renowned for,'' Elliott said.