Ellerslie boss calls in civil engineers to find out the reason for Saturday's near-disaster.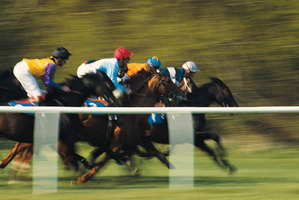 Absolute bottom line on Saturday's Ellerslie disaster - if it had to happen there could not have been a better result.
The startling hole in the back straight that caused the abandonment of the final race could have had fatal consequences.
Given what might have been, a horse with a sore head and a jockey with a stiff neck is as good as you could hope for.
Rogan Norvall was nursing sore shoulders and a sore neck in Cambridge yesterday and is close to certain he will be fit to ride at Te Aroha on Wednesday.
His mount Buckles was almost certainly concussed in the heavy fall and returned with blood in both nostrils.
Fortunately, Buckles was travelling in a lane of his own inside all other horses after starting the 1600m race from barrier No 2.
It meant no horse was behind him when he crashed, eliminating the possibility of a following rival crashing over the top and landing on Norvall.
Imagine the carnage if the leader in the race, Pan Dulce, had put his foot in the wrong spot and created that hole, crashing in front of the entire field.
"There are an awful lot of things to be thankful for," said Auckland Racing Club chief executive Cameron George yesterday.
Only the club's contracted civil engineers arriving to inspect the hole early this morning will, hopefully, explain how a hole could appear under the Ellerslie surface.
The hole is vertical, not part of a horizontal drain and its history is a total mystery to club staff.
It is believed Buckles may have landed a hoof on the side of what is now an extremely deep hole, triggering the exposure, but no one can be certain.
Had Buckles put a foot through the hole his entire leg would have been buried and his forearm almost certainly shattered.
Rogan Norvall said he certainly did not see any signs of a hole on the track before falling. "When we crashed I thought Buckles had broken a leg - that's what it felt like. When I got up there was no sign of the horse and I thought: 'Whoa.'
"I was walking back from the skid mark that I made to the horse's skid mark when I found my stick [whip] and thought I may as well head back to a car.
"I had no idea there was a hole in the track and I didn't get to see it."
The mysteries are how long has that vertical hole been there, what actually is it and why has it not been discovered in the 20 or so years since the Ellerslie track has been resurfaced?
"There would have been around 250 meetings in that time," said ARC racing manager Andrew Castles yesterday. "That means something like 22,000 horses going over the track at that point, something that is mystifying.
"Okay, the rail was out 8m yesterday and the hole appeared 4m from the rail, so it was 12m from the true position of the rail.
"But we've had a huge amount of horses racing over that ground.
"I suppose a contributing factor could have been that Ellerslie was particularly wet on the day - we had 30mm of rain Friday morning - and the horses were punching in a long way, but that still doesn't explain it."
Cameron George said the club had three clear priorities. "We are blessed that horse and rider are okay.
"With that behind us we need to compensate the connections of horses that didn't get to go around in the final race. And we need the professional advice of the engineers to explain how the problem occurred and what is required to rectify it."
Fortunately, the next Ellerslie meeting is not until the Pakuranga Hunt at the end of August, followed by the Great Northern Day on September 7.
Back to the racing and it might have been a tough struggle, but Magna Carta looked good making it two straight in winning the $25,000 Scot Trust Mile.
Magna Carta caused a surprise with punters when he won at odds at Ellerslie at his previous start, but this time co-trainer Donna Logan confidently tipped him as a likely winner.
"On that he's capable of another as well," said Logan.
Meanwhile, "huge" was the comment of trainer David Greene and rider Leith Innes on High Kin's fast-finishing second in Saturday's A$200,000 Ipswich Cup.
High Kin missed by just one stride in grabbing $50 outsider Anagold in the Queensland feature.
Ipswich is a tight, unforgiving track and being in the right spot at the 300m is critical.
High Kin gave the leaders a big start from the home turn and powered home to sweep past the Bryan Guy-trained winner one stride beyond the winning post.
It was High Kin's Australian debut and there are a number of better options for her.
One is the Coloundra Cup, which provides a long home straight run-in and is generally run on a rain-affected surface, which would be ideal.