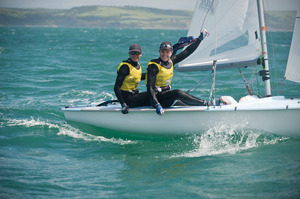 New Zealand sailors Jo Aleh and Polly Powrie won the medal race at the 470 European Championships in Formia, Italy today to secure the silver medal from the regatta.
Going into the day lying third overall, Aleh and Powrie were delighted to finish the six-day event on a high note.
"Great way to finish off the 470 European Champs today," Aleh said. "It was always going to be tough to try and move up the leader board, but we did all we could today, with a nice clean race sailed.
"We had a great start and picked our way up the course to round the top mark in the lead just ahead of the Austrians, who by the way have sailed amazingly this week. The downwind was very tight, but we just got the crucial gybe in, and from there we were able to sail away for the race win."
After crossing the line, the Kiwis, who have been supported by Leslie Egnot as coach at this regatta, turned to watch the finishing order of their rivals which would determine their overall result.
"It was then just a matter of waiting to see where the French and the Austrians ended up," Powrie said. "Luckily for us, we got one out of two, and managed to move up the overall standings to finish in second overall."
The French pair of Camille Lecointre and Mathilde Geron crossed in third to secure gold and a French gold-medal double across the men's and women's fleets.
The Austrian duo of Lara Vadlau and Jolanta Ogar were displaced on the leaderboard by the Kiwis, as they had to settle for third overall after placing seventh in the medal race.
This year has gone well for Aleh and Powrie as they build towards the 2016 Olympics in Rio.
During this tour they've collected two gold medals at Eurosaf Champions Sailing Cup Regattas in Garda, Italy and Medemblik, Netherlands, and now add this 470 European Open Championship silver.
The results bode well for the upcoming 470 World Championships in six weeks.
Aleh and Powrie will depart Formia tomorrow to deliver their boat and equipment to the world champs venue in La Rochelle, France before flying home to New Zealand for a short break.
Meanwhile, New Zealanders Paul Snow-Hansen and Daniel Willcox have finished eighth overall in the men's Open 470 European Championship - another strong result for this new partnership.
Snow-Hansen and Willcox will also deliver their gear to La Rochelle and fly home to New Zealand.
- APNZ