Konrad Hurrell, the Warriors' enigmatic centre, continues to fascinate and frustrate in equal measure as he copes with the weight of expectation, writes Michael Burgess.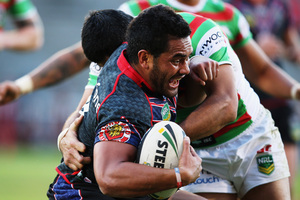 It might not be readily apparent but Konrad Hurrell's defence is on the improve, thanks to some tough love, improved communications skills and success on the scales.
Of all the players at Mt Smart, Hurrell provokes equal measures of fascination and frustration. He has been an enigmatic figure throughout his time at the Warriors. He can be their greatest attacking weapon but also a defensive liability. The 21-year-old can be a game-breaker, a match-winner with his destructive abilities close to the line - but can also be guilty of misreads that leave him grasping at air.
He's a player you can't afford to leave out but, in the ruthless NRL, he's a weekly risk when he's in. Last week was a handy illustration. He was caught out of position for at least two of Manly's tries, then came up with an incredible individual try which proved decisive.
Defensive issues have blighted his short career. He is a league novice, having only taken up the sport full-time in 2011 - but that sympathy only stretches so far in the NRL.
"He's still young and that is what people forget," says team-mate Elijah Taylor. "When Konrad is 26, 27, imagine how good he is going to be. Konrad is learning the tricks of the trade of this sport - how rewarding it can be but also how cruel it can be. That's the environment that we are in."
Hurrell doesn't like talking about defence but talking has been one of his springboards to success. He was a 105kg church mouse last year, barely saying anything on the field. This season has seen a marked improvement.
"Konrad's talking a lot more," says Taylor. "That comes from experience. It also comes from being grilled in video sessions, it comes from team-mates giving you the hard word. That hurts the most, inspires you the most - you have to listen to your team-mates."
"Last year, I didn't talk much to my insides and outsides," explains Hurrell. "I felt like I was disrespecting them. I am more mature now so I can talk to the captain (Simon Mannering) or Shaun Johnson next to me to tell them that I am there. During the game Shaun [Johnson] is in my ear for 80 minutes telling me what to do. Hopefully I can keep hearing that from him, from Simon and from my winger. I know when I talk more on the field, that things comes right; I need to keep that up."
Centre also presents a unique defensive challenge, something that accentuates Hurrell's hardship.
"It's a pretty hard place to defend," says Taylor. "Your decisions are try or no try decisions - that is how important they are. I can make heaps of tackles in the ruck but his tackles stop tries or save tries ... those are big decisions, especially when you have only played four years of rugby league."
"[His defence has] been up and down but it has improved," says assistant coach Andrew McFadden. "To be a good defender on the edge, you need experience. He tends to over-read situations. He probably needs to trust himself a bit more and his instincts and work with people around him. When he does that, he is fine."
Hurrell has also been forced to focus on fitness. His weight peaked at 109kg earlier this year, up from his ideal of around 105kg. He is more of an 80-minute prospect than he was in 2012.
"He is very powerful but his endurance needs to improve," says McFadden. "He can already do things that other guys can't but he has got more in him. He does need to lose a bit [of weight] and that will make a massive difference."
"I've dropped a few kilos now, says Hurrell. "I think it shows on the field; I can play longer when I am at my ideal weight. There is no excuse now, I should be able to play 80 minutes now as a professional player."
Hurrell started slowly this season, by his own admission; he tried too hard to impress and found himself on the outer. He has spent time in the Vulcans, only returning for the runaway win against the Broncos two weeks ago.
"I made too many errors and got dropped," says Hurrell matter of factly. "I was angry at myself for not concentrating, for not focusing on what I should do and training harder. I worked hard in the Vulcans, dropped a few kilos and worked on my ball skills."
Hurrell remains a special talent, worth all the investment. He probably doesn't get the ball in space and in the right place as often as he should - imagine how he would be utilised by a team like Storm - but is already one of the toughest players to tackle in the NRL, as he demonstrated last week.
"As soon as I caught the ball, I was only thinking of the try line," says Hurrell of his wonder try last Sunday. "I knew I was going to score when I caught the ball."
Hurrell will hope for more of those moments today against the high flying Roosters, who have only lost three games all year. He'll face a tough challenge marking Michael Jennings, though in the previous fixture at Eden Park his running battle with Sonny Bill Williams attracted most of the attention.
"I was trying to help out one of the boys," says Hurrell of the push and shove episode with Williams. "I didn't want him to bully one of the boys ... we weren't there for him to bully us but it's all good now. Now I have to concentrate on Michael Jennings - he's a big star in the game and will be tough to handle."