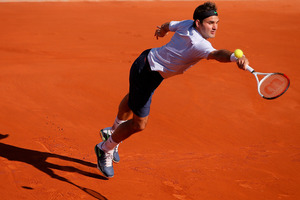 As unlikely as it seems, the upcoming Wimbledon tournament represents Roger Federer's last chance for true tennis immortality.
If, like last year, the Swiss can come up with a fairytale victory, his status as the greatest tennis player of all time will probably be cemented. He would then have 18 Grand Slams - and neither Rafa Nadal (12), Novak Djokovic (6) nor Andy Murray (1) seem likely to overtake him.
But if he doesn't grab an eighth title at the All England Club, he could leave the door open for others, particularly Nadal.
It is unlikely that Federer will add to his collection beyond this year's Wimbledon. The 31-year-old has reached three finals from the last 14 majors; still respectable but not in any way comparable to his previous 14 attempts, when he made the final day on all but one occasion.
Federer is not exactly waning; he's still a phenomenon and handling his twilight years much better than former greats such as John McEnroe, Ivan Lendl, Stefan Edberg and Boris Becker.
But it's hard to see him winning slam events on the other surfaces and, by next year's Wimbledon, he will be just weeks away from his 33rd birthday. Even with clever scheduling and the motivation of the Rio Olympics, you can't defy time forever.
Federer would have at least 20 slams by now if Nadal hadn't appeared on the scene, or had come along a bit later. The Mallorcan was responsible for Federer's first loss in a Grand Slam final; and his next one, and another three after that.
If Federer made an art out of hitting a ball, Nadal has made an art of winning. He has an incredible 17-3 record in Grand Slam semifinals and is 12-5 in finals. Only one man - Djokovic - has beaten him three times at Grand Slam level and only four others (Federer, David Ferrer, Lleyton Hewitt and Murray) have won more than one match against him at that level.
Nadal continues to enhance his legend. Given he has missed three majors due to injury and had at least three other attempts severely derailed by his problematic knees, his record of 12 Grand Slams just past his 27th birthday is astonishing. He is the second youngest to achieve the feat (behind Federer) and has at least four more years of top-level tennis. That amounts to a potential 18 Grand Slam tournaments (two more this year and four a year after that). With three more French Open triumphs, he would need to win one more title in each of Melbourne, London and New York to end up ahead of Federer.
The debate about who is the best continues. Federer is no doubt the most talented to ever hold a racquet but if the Spaniard had the same number of titles, alongside his better head-to-head record with Federer, his case would be undeniable.
"He made a lot of titles," Nadal said of Federer in 2010. "I am more than happy with my titles. For sure, I think talk about if I am better or worse than Roger is stupid. His titles say he is much better than me. It is not the right moment to talk about that. We will see what happens in the future."
Nadal is certainly the most resilient. Not just in his never-say-die attitude in matches but in the way he has come back from several serious injury setbacks. The most recent was the longest (out for seven months) but the worst came in 2009. He exited the French Open in the fourth round, couldn't defend his Wimbledon title and was slayed 6-2, 6-2, 6-2 by Juan Martin Del Potro at the US Open.
The following January he lost to Murray in the quarter-final in Melbourne, again troubled by his knees. His obituary was being written. The power was gone, it said. The intimidation and belief would be next. He hadn't won a tournament in nine months - beating a top 10 player just once in that time - and was at an all-time low.
But he found a way back. Now he has won 21 of his last 22 matches against his top 10 peers and has reached seven finals in his last eight tournaments.