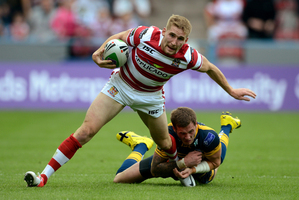 British superstar Sam Tomkins looks set to be at Mt Smart next season. The Herald on Sunday understands that the Wigan fullback told team-mates of his decision to come to Auckland last week.
While there is still room for a last-minute change of heart, the deal between the two clubs has essentially been done, with Wigan requesting time to make the announcement on their own terms. It is a huge coup for the Warriors but also carries some risk.
Given the big money required to secure Tomkins' services, he is in the marquee category. The Warriors have made few such signings over their history, with mixed results. The best have usually been those with proven NRL pedigrees.
Steve Price, Ruben Wiki and Brent Tate were great successes and Feleti Mateo is close to achieving that recognition. The club paid megabucks for Wigan duo Andy Platt and Dennis Betts in the early days and neither came close to justifying the price tag (Platt in particular was a flop), while Greg Alexander was unable to replicate his Penrith form.
Among other big money signings, Matthew Ridge left a mixed legacy, John Kirwan tried hard but was in the twilight of his career, while other former All Blacks such as Mark Carter and Marc Ellis were poor pieces of business.
Though fullbacks have become increasingly important in the modern game, it is hard to make a case that the No 1s win premierships for their clubs (though Billy Slater and Greg Inglis might argue with that). Take a look back over the triumphant NRL teams of the last decade and you will find that nothing has really changed since the days of Peter Sterling and Ray Price, Steve Mortimer and Steve Folkes and Allan Langer and Glenn Lazarus. The key components for an title are the halves and a good pack of forwards, usually with a dynamite hooker and dominating props.
While recruitment is always complicated by who is actually available, the Warriors' decision to sign a promising half (Chad Townsend) and a superstar fullback (Tomkins) is questionable; many would argue that the opposite (an established, quality six or seven and a young outside back/fullback with potential) would be more logical.
Complicating the picture is the presence of both Kevin Locke and Glen Fisiiahi. Both are contracted beyond this season, both are coming into some of the best form of their careers and neither will fancy playing in the Vulcans.
Locke has always been an extremely promising talent. He has had periods of wonderful play in his career, punctuated by episodes of inconsistency. He hasn't been helped by off-field issues but looks to have matured this year. The 24-year-old looks ready to take off and, with hard work, could approach the level achieved by the likes of Slater, Ben Barba and Brett Stewart.
Fisiiahi, as he showed last week against Manly, seems to have finally got to grips with the physical demands and intensity required in the NRL. When this new attitude is combined with his undoubted attacking weapon, the former junior is a considerable prospect.
The other intriguing question over the Tomkins deal is how will he cope with the NRL. The England fullback is undoubtedly a special talent, with a prodigious try-scoring record, but the competition in Australasia is significantly tougher than Super League.
He is recognised as a fantastic support runner, which will be welcomed by the Mt Smart faithful. Too often over the last few seasons players like Mateo, Russell Packer and Ben Matulino poke their head through the defensive line, only to find no one charging at their hip and the half chance goes unrewarded. That's the strength of someone like Slater, who is constantly backing up his forwards looking for the offload.
However Tomkins has been targeted under the high ball, especially in international football, and that will only continue in the NRL.
Some British imports have found great success in the NRL in recent years, though they have been mainly forwards, like James Graham at the Bulldogs and the Burgess troupe at the Rabbitohs. Backs from the Northern Hemisphere have traditionally found it more difficult to adjust to the demands of league in the Southern Hemisphere, even going back to the 1980s when accomplished players like Shaun Edwards, Andy Currier and Garry Schofield couldn't always recapture their British form.
In some ways the omens around Tomkins are good, as the Warriors have a history of striking gold with imported fullbacks - Brett Webb, Wade McKinnon and Ivan Cleary spring to mind - and maybe Tomkins will continue that legacy.
• Meanwhile, Stacey Jones was confirmed yesterday as the new Junior Warriors coach for 2014. As reported in the Weekend Herald, Jones will take over from current NYC John Ackland, who has chosen not to seek a contract extension. The 37-year-old Jones made a club record 261 appearances and also holds the record for most points (674) during his 12 seasons with the club. Jones has signed a two-year deal to the end of the 2015 season.