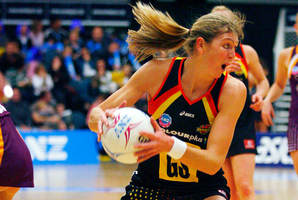 KEY POINTS
Evergreen Silver Fern plans to play in next year's Commonwealth Games and the 2015 world champs.
Irene van Dyk hopes to play netball for New Zealand when she is 43 - but won't be seeking a Richie McCaw style sabbatical to manage her body through the next two years.
The Magic shooter, who turns 41 next week, is targeting the Commonwealth Games next year and wants to be in the frame for the 2015 world championships in Sydney.
Van Dyk was not commenting on reports that she and other Magic core players might be thinking of a franchise move following the announcement from coach Noeline Taurua that she is stepping down. However, sources close to the Magic suggest reports of unrest might be overstated at present, though there is no doubt the absence of Taurua will be felt and much might hinge on the new coach.
Van Dyk doesn't think she would benefit from a break away from the game, like McCaw: "If the selectors think I am up to it, then I would love to be there," van Dyk said. "Physically and mentally, I feel fine and I don't think a break [away] from the sport would work for me. I'm the kind of person that needs to keep on ticking over otherwise I don't feel good at all.
I need to be out there amongst it."
Such a goal may not be wholly unrealistic. Ferns heir apparent Cathrine Latu has not progressed this season and remains a definite No2 behind van Dyk, while Bailey Mes is still unproven.
"Irene has some choices to make," observes longtime coach Taurua. "She needs to decide how long she wants to play for, what kind of product she wants to put out on court and how she wants to be remembered. But she is one of the most professional athletes in this country and her destiny is completely in her own hands, I think."
Van Dyk has had a challenging year; she reached rock bottom earlier this season in the losses against the Fever and Thunderbirds. She scored only 15 goals in Perth and 13 against the Adelaide side, a record ANZ Championship low for her which also saw her consigned to the bench for the last quarter. But, as she has done for most of her career, she rebounded, looking back to her best in recent weeks.
"I just played like a muppet," says van Dyk of her struggles earlier this year. "They weren't some of our better performances but you have to get through it. I felt like I was letting the team down but I knew I was the only one that could change it."
Van Dyk will again be key as the Magic host the Vixens today. In a replay of last year's grand final, the Magic have to win to stay in the hunt for a top four spot while the Melbourne side want to rebound from a surprise loss to the Swifts last week.
The speculation over the ability of the Magic to retain their big four (Laura Langman, Casey Kopua, Leana de Bruin and van Dyk) has gained weight with the impending departure of Taurua. It has been a common theme at this time every season, as rival franchises target the star quality that quartet brings - though may hold more weight this time round. Taurua has engendered loyalty and the players will want to be reassured that a new coach has a) the attributes to succeed and b) no desire to alter radically a successful formula over the past five years.
One Magic source indicated that the players are waiting on the new coach - set to be announced at the end of this month - before making any decision about their futures. It will take a lot for them to leave but can't be ruled out. Privately the organisation are confident they can retain at least two and hopefully three of the four, but are also wary of the domino effect that one departure could bring.
Langman has been a Mystics target over the last few seasons but has turned them down. Given the Mystics' midcourt woes, the Silver Ferns centre now appears to be their No1 target and may appreciate the career opportunities in the Queen city. A deciding factor could be whether Langman considers she can fit into the Mystics culture, substantially different to that of the Magic.
Van Dyk is a perennial Pulse target and could yet consider the Wellington side, especially as they are now much more competitive than in the past. Donna Wilkins' impending departure will open a place on the roster. However van Dyk will want to optimise the last few years of her career and may decide the Magic to be her best option.
De Bruin has moved before (Steel, Mystics) but is said to be settled in the Waikato and her preference would likely be to stay. Kopua looks the least likely to move. Recently married, she is said to have a strong desire to stay with the franchise she joined as a teenager.