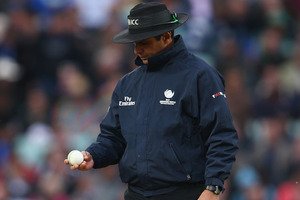 A ball tampering controversy has erupted less than a day out from New Zealand's Champions Trophy semi-final deciding match against England.
The row began when umpires Aleem Dar and Billy Bowden ordered one of the balls to be changed during England's seven-wicket defeat by Sri Lanka at The Oval on Thursday.
Former England captain Bob Willis suggested ball tampering was to blame, during a rain delay in the match between West Indies and South Africa on Sky Sports.
He was quoted in The Sun as saying: "Let's not beat about the bush - Aleem Dar is on England's case.
"He knows that one individual is scratching the ball for England - who I am not going to name - and that's why the ball was changed.
"Have you ever heard about the batting side or the umpire complaining about the shape of the ball?
"How naive does Alastair Cook think we are? He didn't want the ball changed.
So why was it changed?"
England limited overs coach Ashley Giles defended the team against such claims at the pre-match press conference.
"The ball was changed, as far as we are aware, because it had gone out of shape.
"We don't tamper with the ball, we play cricket as hard as anyone. It's disappointing for us as a team, especially with the mention of one of our players having specific role. I guess we always take allegations seriously, but again, people have every right to say what they're going to say."
The player involved is unlikely to be named for legal reasons.
It is acceptable for the ball to scuff through natural wear and tear but fingernails or other means cannot be used to alter its condition.
Giles admitted reverse swing is a key weapon for his team but says they're going about it in legal fashion. He says they've been getting particular benefit at Edgbaston.
"It's because of how dry the squares are. It's a combination of the watering you're allowed to do [on wicket blocks], the new drainage systems which sap moisture out of squares and the number of wickets cut on those squares [which help rough up the ball because of their abrasiveness].
"There are loads of different methods [to help it reverse swing], we bowl cross seamers into the third or fourth over and throw the ball in from the boundary on bounce. That's permitted by regulations and it's helpful."
Giles was asked where such an alleged crime ranked on a scale of murder to speeding.
"A crime is a crime but there are a number of issues in world cricket that need to be addressed. I'm not going to put it in a hierarchy but I'm pretty sure it's not murder."
New Zealand coach Mike Hesson says he has not observed any ball tampering by England in their recent series.
"Not at all. Before every tour, match officials make it clear they'll inspect balls on a regular basis. If they think the ball's gone out of shape or something's happened to it they replace it. It's not an issue as far as I'm concerned.
"We played them [England] in New Zealand on fairly abrasive surfaces where there is always going to be an element of reverse swing. Most international bowlers are pretty adept at getting the ball to move off the straight; that's part of their skill set. Once it's dry the square becomes a real option in terms of scuffing the ball up - and it does tail as a result. It's something all bowlers have got to use.
"I've got no idea how England achieve reverse swing but it's not my responsibility. From what I understand the other day, they changed the ball because it was out of shape."
The New Zealand-England match is effectively a quarter-final. The winner, if weather permits, is guaranteed a semi-final spot and is likely to top the group.