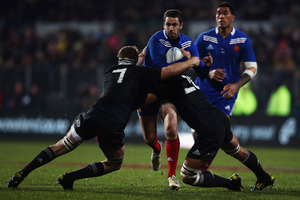 Some subtle structural amendments and more time in training were credited with the vast improvement in the All Blacks' defensive effort - the unquestionable area of excellence that allowed them to hold France scoreless for the first time in history.
France ... scoreless ... that's something - really something, given the cut and thrust of their midfield and scorching pace of their back three.
So much of the All Blacks' work dented and frustrated the French but it was the power, accuracy and tenacity of the tackling and scrambling that broke the spirit.
What were they to think when they threw the kitchen sink early in the second half with the game in the balance, only to be sent packing, inch by inch, then metre by metre, until they were in full retreat.
"Defence wins games," said Hansen. "And it shows the attitude and character of the team, what they are all about, and that comes from the time they have spent off the field as well.
"The game was in the balance until we created that opportunity [Ben Smith's try]. Defensively, I think [we were better] by a nose."
While the All Blacks' propensity to kick and chase may have taken most by surprise, it was a tactic the All Blacks had every intention of using more last week.
Hansen said all the accuracy, intensity and clinical nature of the 30-0 rout was in line with his expectations.
"It was a performance we expected," he said. "Getting the time together, we could see at training that we had gone up nine or 10 cogs.
"We got our game right. Our kicking was good, our chasing was good and our defence was simply outstanding."
Skipper Kieran Read was confident that his sore back - he took a blow to it just before halftime - would be bruised and sore for a few days and that he would be fine to play next week.