Player stood down after taking swing at opponent as teams shake hands.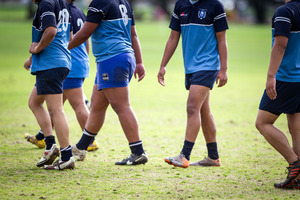 A young rugby player has been stood down after he punched an opponent as teams shook hands at the end of a torrid under-20s match.
A player for Teachers Eastern lashed out at Waitemata Rugby Football Club's No 8 last Saturday, leaving him with what Waitemata coach Dean Semmons described as a sore face.
"There was some niggle during the game, as there usually is, but to punch someone during the lineup was pretty low," Semmons said. "Fortunately my player wasn't too badly injured, but it was a big deal and it certainly warranted an official complaint.
"My team kept calm and no one retaliated. I told the boys not to react to this and they didn't."
After the punch was landed, the Teachers Eastern player stripped off his shirt and challenged "anyone within sight to a fight", a witness said. "Quite why, no one knows."
"The Waitemata lad is a Fijian and is a cracker of a player," the witness added.
"The assault was completely unprovoked. It was disgusting. It was admirable that the boy walked away and did not retaliate, especially as it was in front of his home crowd."
The incident was reported to the Auckland Rugby Union but it was referred back to Teachers Eastern to deal with, as the referee had left the field and didn't see what happened.
The aggressor was hauled before a disciplinary committee at the Orakei-based club on Thursday night and was stood down for a week.
"Our player claimed he was provoked. He said the Waitemata player had made taunts to his relatives on the sidelines that had sexual overtones," said Eddie McKinney, president of Teachers Eastern.
The player accepted his behaviour was unacceptable and he was remorseful.