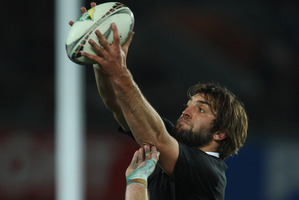 There was a time when it was best not to mention the All Blacks lineout around Steve Hansen. In 2009, it was a sick-looking thing, an almost contagious element of the All Blacks that infected all those who went near it.
There was no safety to be found on the touchline; the All Black throw was a free-for-all back then - an outrageously generous present to opposition teams. South Africa in particular probably built more of their attacking game off defensive rather than offensive lineouts.
Throwing, jumping, lifting, catching - there were faults in all elements. The whole process of ball going out to ball being secured took an age and France, England, South Africa, Australia and even Scotland were significantly better aerial teams than New Zealand.
Much has changed in the intervening four years. Hansen, while nearly spat into coaching oblivion through the transition, stripped the lineout bare at the end of 2009 and began a total rebuild. By 2011, the All Blacks were one of the best, statistically at least, lineout operators in the world game.
Last year, they improved their completion rate and, more importantly, improved the quality of their possession.
Yet for all that they are greatly improved, their reputation hasn't made similar advancements. Everyone knows they have a scrum to fear, that they can be lethal at the breakdown and they have no peer in terms of general awareness and speed of movement when attacking from loose ball.
But lineout? Nope, not scary and in truth, even if they are labouring under a misapprehension, world rugby's leading sides probably see the All Blacks as vulnerable there.
Hansen's keen on changing the perception and, for the first time in his All Black tenure, the All Blacks have the personnel to dominate the touchline. They have tall timber in Sam Whitelock, Brodie Retallick and the yet to be selected Dominic Bird who will be hopeful of securing a place on the end of year tour.
At 2.02m, Whitelock is the little man, one centimetre shorter than Retallick who is dwarfed by the 2.06m Bird.
Whitelock, in his work with the Crusaders this year, is establishing himself as one of the world's premier lineout forwards. His athleticism is not yet matched by his certainty that he belongs at the highest level. Retallick is a freakishly fast developer and has sucked in every piece of information that has come his way, while Bird could end up off the scale given his immediate advantage of being half a head taller than any other lock.
Luke Romano, despite being comparatively short at 1.98m, uses his frame and timing to great effect.
That's what is encouraging Hansen to believe he and forwards coach Mike Cron can take the All Blacks to the World Cup as a genuinely fearsome lineout side; they not only have the players, they also now have the knowledge and understanding of this once troubled part of their game.
"Our lineout, from a height point of view, is very, very good," says Hansen. "I think they [the four locks] are complemented too by Reado [Kieran Read] and Steve Luatua when he gets out there - big, big loose forwards as well.
"In 2009, we changed our structure. We changed our basic skills. We had a lot of guys double jumping. We were really slow in the air. Our lifting technique was poor and, when you are changing things, it takes time.
"In World Cup year, we were averaging high 80 per cent from our lineout returns, which was one of the best in the world.
"Last year, we were the leading lineout in the Southern Hemisphere - we were averaging in the 90s. Not only winning ball at 90 per cent but top quality ball on top of that.
"In the first test [against France], we were down in the 70s and that is not good enough. That's not where we expect to be but when we went through the clips, there were some obvious flaws in what we are doing and we have crept back into some old habits.
"I think it is just human nature: if you look at golfers and their swing ... little things creep in. It is no one's fault, it is just what happens, and I think that is what has happened with some of our lineout skills. So we have had an emphasis on getting back to our explosive jumping; getting our lifters on and speeding the whole thing up and I am positive we will get a big improvement."
Building the perception of aerial excellence is an important part of the World Cup plan. It is low-hanging fruit: an area where, by and large, the All Blacks are in control of the outcome when they throw. The psychological edge they gain by having every part of their core crafts under control, would be significant.
Imagine facing an All Black side that was considered destructive at scrums, flawless at lineout, ruthless at the breakdown and impeccable at collecting restarts? Hansen has imagined that very prospect and knows that building genuine expertise in each is achievable.
"If you can get your set piece right - and if you include your re-starts in that and let's chuck the breakdown in there as well - then you have got four areas where you can dominate games. You have to have a platform to build anything on. It goes back to your tight five and loose forwards doing their jobs well and it is the old, old cliché of winning games up front."