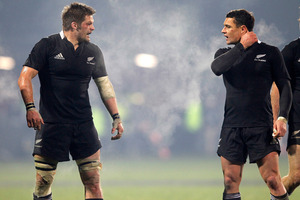 However much the All Blacks invest in the next generation and empower them to take charge, the spectre of Richie McCaw and Dan Carter will continue to loom large.
Just as so many others have found over the years, there is no escaping from these two. The All Blacks can rejuvenate their leadership group and experiment with selections as much as they like this year, but they will always be a better, more effective, composed and convincing rugby side when McCaw is back in No7 with his hand on the tiller and Carter wears 10 as his vice-captain.
The All Blacks will never truly break their dependency on these two - not until they retire, anyway. That's not the reality the All Blacks want to accept. Their secondary goal this year - they still hold an old-fashioned, healthy regard for winning tests - is to protect the intellectual capital of the side against retirements and injuries.
The bulk of their experience is tied up in veterans; their key decision-makers are all in their 30s and that, of course, includes McCaw and Carter. Having so much invested in so many vulnerable athletes is not comforting. It is of particular concern that the All Blacks' win record when Carter and McCaw both play is in excess of 90 per cent, dropping down to the mid-80s when neither has been available.
Keven Mealamu and Andrew Hore are most certainly high-risk leaders who might not even make it to the end of this year, never mind 2015. Conrad Smith is another whose longevity is questionable so coach Steve Hansen needs to introduce younger men such as Sam Cane, Sam Whitelock and Owen Franks to positions of responsibility.
But he shouldn't tie himself up in knots worrying about the continued influence of McCaw and Carter and fearing what might happen if they are not around for the next World Cup.
The All Blacks beat France at Eden Park without those two. Hansen took plenty from the courage, commitment and maturity his side showed when they were under intense pressure for much of the second half.
But, for most of the game, who could shake the thought that the All Blacks looked that little bit vulnerable without McCaw and Carter? Read is a world-class No8, a strong personality and capable captain. But he can't compare with McCaw; Read has led the side for three tests, McCaw for 79.
Cane played well at openside and is clearly on his way to being a great player. That's the thing, though, he's on his way; McCaw is there, has been for a decade. It's much the same for Aaron Cruden - he's developing, impressing at times. Yet he never convinces quite the same way Carter does. The level of reassurance from seeing Carter easing the ball through his hands, pulling his runners into the game, steering the ball into the corners with his prodigious left boot, is considerable.
When Cruden kicks for goal, it is a fraught business. Not so with Carter; he exudes confidence and has the statistics - built over a long history - to back the perception of him as one of the world's great pressure goal-kickers.
The inescapable conclusion from the first test of the season was that the All Blacks can be a good side without McCaw and Carter. They can win tests and, once they settle into their new attacking patterns, should play some quality rugby.
But what was more apparent is that they will probably never be a great side without those two. They really do make a difference. Without those two, they may not win as many tests. Playing a cobbled-together French team in June is not the same as playing a ferocious Springbok side in early October in South Africa.
The All Blacks will undoubtedly evolve and adapt this year to good effect. They will lessen their reliance on some veterans but not the big two. They still need McCaw and Carter - they are still a significantly better side for their presence.