After the Texas outing, Darwin track will be another tough test of tyre strategy.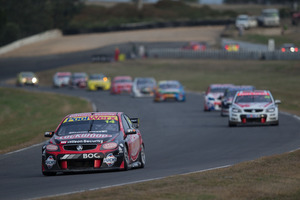 The V8 Supercars are back on home soil for the sixth round of the championship, in Darwin for the SkyCity Triple Crown. Last time out the cars and drivers were dicing with each other in Austin, Texas at the Circuit of the Americas.
Competing on the Hidden Valley Raceway at the top of the Northern Territory might seem a million miles away from racing in America, but it's not such a big leap.
In fact, for a lot of teams and drivers, having their first hit-out back on home turf in Darwin is not such a bad thing.
Both events are on fast, flowing circuits in a lot of heat. Tyre degradation is going to be an important factor this weekend, especially if it's really hot, and teams are going to have to juggle using hard and soft compound tyres over a single weekend - the first time this season the combination is having to be considered as part of the overall strategy.
Each car has been allocated eight soft and 12 hard tyres to use through qualifying and the three races.
The 60/60 sprint format is being reintroduced for today's race, which comprises two halves of 21 laps in which teams have to use the hard compound.
During tomorrow's two 35-lap races the cars will have to use both the hard and soft tyres.
It is a lot to think about and the best-placed Kiwi driver in the field, Fabian Coulthard - fourth, behind Will Davison, Craig Lowndes and defending champion Jamie Whincup - is looking forward to the challenge.
"Austin was a good practice for us and it's been a good comeback for us since Clipsal [19th and a DNF] and I've been fortunate to win a couple of races along the way," said Coulthard.
"We've had some good results and it's important to keep that consistency going and to finish races and get the points. It's nice to win races, but it's the points that win championships, or at least to be in contention to challenge for the title.
"Qualifying this weekend is going to be important and where we qualify will dictate how risky we can be with strategy. If we qualify at the front we'll do what everyone else does. If we have a poor run we'll probably do something more extreme."
As the second-placed driver on the table of race wins, Coulthard has had that "nice" feeling three times this season, but it's Whincup and the Triple Eight guys who are rapidly coming into some serious form.
The season started with seven different winners but of late it's all been Whincup bar the odd hiccup.
Another Kiwi who's looking forward to the Darwin round is Shane van Gisbergen.
He's been quietly accumulating points and is comfortably tucked in at sixth on the points table, fewer than 100 points off third place.
"The biggest thing coming to Darwin is the heat and tyre life," said van Gisbergen. "The track is so hot and abrasive it just burns them up.
"It's a mixed compound race so you've got to have a car that suits both, which makes it really interesting. If you've got a car that's soft on tyres, you've always got a shot.
"Traditionally it's been a good place for me and I always enjoy racing here. It's close at the moment with third to eighth less than 200 points apart. If we just keep getting top five finishes we'll keep moving forward in the championship."
Third of the flying Kiwis in the series is young Scott McLaughlin, whose elevation to the main game came as a surprise to a few. But he has proved he well and truly deserves his chance to mix it with the big boys.
He has had his first race win - and his first big crash - and can't wait to get his title challenge back on track after slipping to 11th after Texas.
"All I'll be trying to do is race hard and stay out of trouble. We've been a bit of a target lately," he said.
"It's tough joint to race at with the heat and such. The plan is not race everyone straight away but save the tyres until the end.
"You've got to be careful who you race with and when.
"If you're slower than the other bloke let him go and then follow him through the traffic. Don't fight straight away and keep something in the tyres."

Supercars points
1. Jamie Whincup 1217
2. Craig Lowndes 1075
3. Will Davison 1004
4. Fabian Coulthard 954
5. Jason Bright 945
6. Shane Van Gisbergen 907
7. Garth Tander 888
8. Mark Winterbottom861