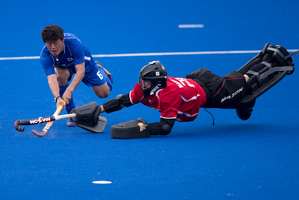 Should New Zealand go on to a successful World League semifinal tournament, mark a significant part of that down to two losses last week.
Striker Hugo Inglis, 22, who scored New Zealand's first two goals in their 3-3 draw against the Netherlands in Rotterdam yesterday, reckons those 4-1 and 3-1 defeats to world No7 Spain en route to Rotterdam were hugely beneficial.
"Crucial," the student said. "Spain are a really sharp team at the moment and it was probably better for us to lose because we recognised the areas we needed to improve.
"The guys did a heck of a lot of work when we got to Holland to get those things right. Holland are a similar team to Spain so it was good to see us put in a better performance."
The Black Sticks, ranked sixth, play 15th-ranked Ireland in their second pool game tonight. The Irish, on the back of a 4-4 draw with India yesterday, won't be easybeats, according to New Zealand coach Colin Batch.
"We want to keep improving, that's our focus for the Ireland game," he said.
The third-ranked Dutch dominated in terms of possession and scoring chances but New Zealand's defensive structures were strong and they compensated impressively for the loss through injury of seasoned midfield organiser Shea McAleese.
Auckland midfielder Arun Panchia was moved into McAleese's role, Blair Hilton was pushed further forward and the combined effect had Batch satisfied.
As for Inglis, who brought up his century of internationals in the pre-tournament home series against Korea, he's happy with his own form: "it was good to pick up a couple of goals, that builds a bit of confidence, but there's still a lot of work to be done in the next couple of games".
The disappointment at letting a 3-1 lead against the Netherlands slip had to be set aside.
"We're a team with a lot of new guys coming in, some for their first big tournament and to get that first one under the belt against the Olympic silver medallists from London is great. But you can't walk away without a bit of disappointment," Inglis admitted.
The women's Black Sticks played their second game early this morning against fifth-ranked Germany, having started their pool with a 7-0 beating of India on Thursday. Their coach Mark Hager is comfortable with a new rule introduced for the tournament surrounding the taking of penalty corners, with one qualification.
The International Hockey Federation has deemed that teams have 45 seconds to take the penalty corner, putting the onus on both defensive and attacking units to speed up.
"I think it's a good rule, where you make defence and attack hurry up so you're not getting a minute-and-a-half break," Hager said. "From that point of view it's a real plus. The hardest thing is not having an opportunity to practice them."
Teams were told only last week the rule would be enforced at the tournament, with umpires empowered to take action on dawdling. "For the first two or three games it's going to take a bit of getting used to," he added.
When, where
• The men's Black Sticks play Ireland at 7.30 (NZT) tonight then India at 3am on Monday; the women lost against Germany early this morning and finish their group against Belgium at midnight tomorrow. All games are live on Sky Sports.
• The top three teams in each eight-team tournament progress to the World League finals in December (Argentina for the women) and January (India for the men).