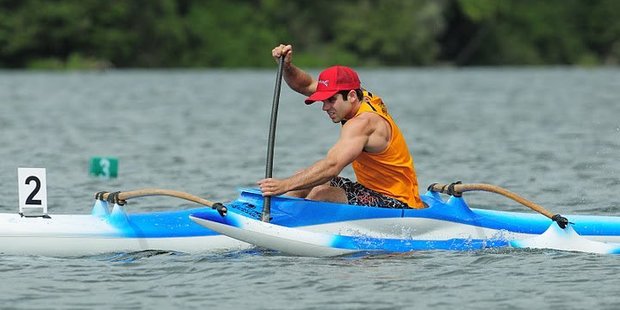 It's not every day you get an open invitation to receive tuition from a world champion.
Introducing Felipe Dos Santos - a Brazilian who has made a big impact in a short time in New Zealand.
When asked for simple tips for newcomers to stand-up paddle boarding (SUP) or outrigger canoeing, he said: "You can find me every day at Fergs Kayaks or Orakei Water Sports at Okahu Bay, and we could go for a paddle."
The 23-year-old knows what he is talking about. He and his team, Vaka Manu Starboard, made history at the New Zealand Waka Ama Sprint Nationals in January at Lake Karapiro in Cambridge.
They won five gold medals to claim the first clean sweep in the history of the competition.
Dos Santos and his teammates went on to win the Whaingaroa Hoe 24km open men's division in April, and he recently represented New Zealand at the Tahiti Nui Va'a 166km Outrigger Canoe race in Tahiti.
Since coming to New Zealand, Dos Santos has become a world champion outrigger canoe paddler. He has found canoeing here to be a good challenge.
"The level is high and the conditions are hard here in New Zealand," he said. "The weather is always changing, giving you an extra rival on the water."
Dos Santos has been in New Zealand for three years. He was looking for a nice place where he could learn English and improve his outrigger canoeing.
"New Zealand was the perfect atmosphere. People from overseas see New Zealand as an adventure country, full of options for radical sports."
Dos Santos is from Santos in Brazil, a coastal city, so he feels right at home in Auckland.
"I used to live on the water, paddling or surfing every day. New Zealand makes me feel at home."
He can be found every day on the Waitemata Harbour, paddling with his friends on an outrigger canoe or paddleboard. He said working at Fergs Kayaks has been a great opportunity. "Everyone knows the Ferguson family background - they are all champions in water sports. They helped me a lot with my training programmes and technique. I always will be grateful to the knowledge that Alan Ferguson and Ian Ferguson have both given to me before my races."
Winning a world title was a special accomplishment and he is grateful a New Zealand team believed in his potential. "I also know all the hard work we put in over the winter, paddling in very harsh conditions, all to achieve at the top of the sport - and to come away with two gold medals is an amazing achievement and one my family and I are very proud of."
It is the second time New Zealand has won a gold medal and the first time two gold medals have been won in a single Outrigger World Championship.
Dos Santos has also proved to be a fast learner as an SUP instructor at Fergs Kayaks. He has only been paddling SUP since December, and claimed a second place in the Elite King of the Harbour (24.5km) race.
Dos Santos is as talented as he is approachable, and has been a natural fit here in New Zealand.