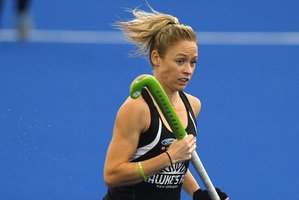 A lacklustre first half cost New Zealand dearly as they lost their second game at the World League semifinals 3-2 to Germany today.
World No 5 Germany were 2-0 up inside the first 15 minutes, with goals from captain Julia Muller and Eileen Hoffman, the first from a penalty corner, the second when the Black Sticks failed to clear their line.
Germany had far more scoring opportunities in the half but the second spell was better by third-ranked New Zealand.
However it was not until the last few minutes that they got on the board.
Germany were reduced to 10 players late on and coach Mark Hager replacd goalkeeper Biana Russell with an outfield player.
Four minutes from the end Cassandra Reid set up Charlotte Harrison for the first New Zealand goal.
Germany regained their two-goal advantage through Franzisca Hauke before captain Kayla Sharland got New Zealand's second in the final minute.
"We are disappointed with the way we started," Hager said.
''We were on the back foot in the first 20 minutes and if you give a side like Germany that much space it is very hard to come back."
He praised Germany's skills, noting that ''unless you put them under real pressure they won't make mistakes".
''There were times when we did have opportunities and we didn't convert, and that's something we will learn from," he added.
New Zealand, who had won their opening game 7-0 over India, play Belgium in their final pool game late on Sunday night.
Germany are now at the top of Pool B on six points, followed by the Black Sticks on three. Belgium and India, who drew 1-1 today, have one point each.
The New Zealand men's team play their second game against Ireland tonight, after starting with a 3-3 draw against the Netherlands yesterday.