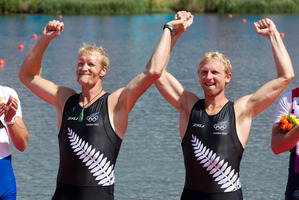 They have gone unbeaten for four years, capped it with the Olympic gold in London and are about to get back on the World Cup circuit next week.
It may be time to echo George Gregan's famous roar into All Black ears late in their World Cup semifinal in Sydney 10 years ago: "Four more years." Gregan meant another cycle of cup desolation for the All Blacks; in Eric Murray and Hamish Bond's case it would be projecting forward to Rio 2016, aiming to repeat a campaign of unparalleled success.
The champion coxless pair spent the last four years streeting the field, with the notable exception of British pair Pete Reed and Andrew Triggs Hodge, who lost 14 successive races to the Kiwis, but pushed them hard before pulling out last year, having given up the ghost.
So the New Zealanders must yearn for some really tough competition to get the competitive juices flowing again this year.
"No," Murray said, with a laugh, but he takes the point.
"We do enjoy hard racing, but we'd like to stay unbeaten," Murray said.
"So we've said let's make sure we do as much training as we can so we can be as dominant as we were last time.
"You hear other athletes say 'look they were better on the day, we've got to take it on the chin'. That's the way we want to be."
Murray and Bond start again at the scene of their Olympic triumph, Eton Dorney, having skipped the opening cup regatta in Sydney in March.
It is because of their high standards, after a later start than usual back on the water after London, that they sat out Sydney. Eight weeks training after six months off wasn't on. Turning up on insufficient training time would have gone hard against their philosophy.
They had a good break from rowing. Murray, at 31 four years the older of the pair, did Fight for Life, Bond helped build a house. They freed their minds from the often monotonous work of trekking up and down the same stretch of water at Lake Karapiro.
When they won their gold, Bond revealed that over the four years, the pair had rowed a mind-boggling 15,000 strokes for every single stroke they pulled in the final. It was a gruelling regimen, worked out at about 40,000km over the four years, at about 250 strokes per 2000m race.
"We bought into [coach Dick Tonks'] programme of 'no compromise and you'll probably win a gold medal'.
"That attitude is bloody hard, I will not lie. Sometimes it's awful what you have to do and the things you have to give up and sacrifice. But that was our choice."
This year Bond and Murray are under Australian Noel Donaldson, a proven coach at Olympic level who is overseeing Rowing New Zealand's sweep oar programme.
Donaldson quipped several weeks ago that his only advice from HQ was "don't bugger them up".
Murray pointed out he and Bond had had only two coaches since their days in the world championship-winning coxless four of 2007, Chris Nilsson and Tonks.
"He has attributes of both, and really communicates well. He's got a lot of knowledge," Murray said.
"He's said we don't have to reinvent the wheel but let's make this wheel really refined. We've changed a few things with training, it's going well so far and we've enjoyed it."
The test will come over the next few weeks. If it doesn't work at Eton and Lucerne starting on July 12, "maybe we have to go back a little step. But it it does pay off, awesome."
Still, the signs are encouraging. The men feel they're travelling as fast as they were last year before heading away. The one intangible is whether that will still be good enough on the world stage.
"We can do as much training here as we want, but when you get overseas it's just a different ball game altogether when you're racing other people. You see who else is going to be there and if there's new combinations about. Are they going to contend or just be there to make up the numbers."
As for being back at Eton, Murray quipped "it's just another rowing course, eh". However he knows there will be rosy memories.
"We're just really lucky we can pull on those things for motivation. It's just a piece of water you go up and down on, but you do remember."