Raelene Castle, the first female chief executive in the NRL era, says sport has always been a massive part of her life.Picture / Dean Purcell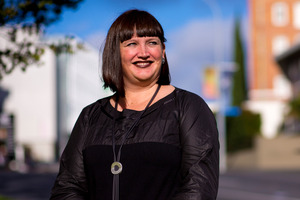 Raelene Castle takes the Canterbury Bulldogs' reins next month in a landmark moment for the NRL. Castle, Netball New Zealand's boss for the past six years, is the first female chief executive in the NRL era.
This was no sudden impulse for the daughter of former Kiwi league forward Bruce and New Zealand bowler Marlene. Sport has always been a massive part of her life. Best childhood memories include watching the Mt Wellington team her father coached playing at Carlaw Park and the "multicultural, family" clubroom atmosphere.
Castle - whose partner Greg Jones is a long-time buyer at The Warehouse - put an NRL club chief executive's job on her radar two years ago, and set up meetings with NRL boss David Smith this year to signal her ambitions. Recruiters emailed her within 30 minutes of Smith's late-April announcement that Bulldogs CEO Todd Greenberg had joined the NRL. Castle, who steered netball impressively through groundbreaking times, chats with the Weekend Herald.
Q: You've broken the glass ceiling ... is gender an issue?
A: Look, there is some sexism in some companies but it is far and away the minority, certainly in Australasia. It is difficult for some women, with families, trying to be superwoman. But if you are the best person for the job, you will get it. Females need to hold their hands up and just go for it. I've got female colleagues who say they didn't even apply for jobs because they knew it wouldn't be given to a woman. That would never occur to me.
Q: Was sports administration always your goal?
A: Even in the corporate world, I was always talking with mates about the weekend sport. Someone would shoo us along, tell us to get back to work. Now I do it legitimately which is a privileged position. This job has let me look under the covers, to see how it works.
Q: What have you found under the covers?
A: I'm less likely to debate in social situations things like coach performances, why a coach was sacked, why a player wasn't selected. There is information most people are not aware of. Sport must engage fans but there are responsibilities to athletes and coaches, to make sure they are treated in a respectful way. Like all employers, sports can't reveal everything in public.
Q: A favourite netball moment ...
A: After winning in Delhi (Commonwealth Games 2010) the Ferns were rolling around mid-court and then Katrina Grant ran and jumped on a chair to hug me. You've no idea how special that is to me - for a senior member of the team to include me was just huge.
Q: Sports heroes?
A: (German tennis star) Steffi Graf and (Silver Fern) Sandra Edge. Graf was successful for so long yet always graceful, gracious and respectful. She was always in the best shape and just loved to win. Sandra Edge did things that no other player could do. The new crop won't like this, but I haven't seen anyone since either. The scary thing is she couldn't tell you how she did it. Lois Muir told me Sandra was a nightmare to coach because she wouldn't stick to any game plan. She had that freedom ... I played against her once and she came from nowhere to intercept out of my hands. You've no idea how difficult that is.
Q: Your parents' reaction?
A: My mother is the most one-eyed Warriors supporter ever and my dad religiously watches league on TV and still watches the Howick Hornets play. They both switched allegiance to the Doggies immediately ... the Warriors are now their second team.
Q: What change would you most like to see in netball?
A: More women internationally having the opportunities our Silver Ferns do. To have those icons ... that would change the situation for some women in some cultures beyond anything you could imagine.
Q: Changes in league?
A: I don't see why there can't be more women around board tables and in other administration. Women are 50 per cent of the audience so why wouldn't you want their perspective. It is irresponsible not to. More women also change the dynamic in the room.
Q: Any funny netball memories?
A: I toured with the Silver Ferns, soon after starting, carrying the bags and driving the minibus in an attempt to build a relationship with the team. Our sponsor was Asics but one morning at training, with the TV cameras on the way, I put on a pink T-shirt with the Nike swoosh. The players grilled me about whether I knew who our sponsors were and made me wear a big puffer jacket - it was 34C in Brisbane.
Q: Never mind the T-shirt - what's the chief executive doing driving the minibus?
A: I'm no more important than anyone else in an organisation. If the envelopes need stuffing, I'll do that as well. Actually, I'd just started here and without realising, jumped in and helped everyone stuff envelopes one day. I heard later that a couple of staff left the room to email people saying, "Holy s***, she's stuffing envelopes." That's exactly the attitude I'd like to think I can bring to the Bulldogs.