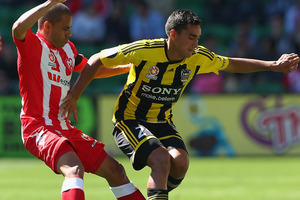 Trying to win a contract with a football team isn't like your average job interview.
Rather than preparing your CV, reading up on your prospective employer and sitting down for a lengthy chat with questions being fired at you about your goals, hopes and dreams you have to let your work on the training ground do the talking.
Sure, players can send in DVDs of themselves but they are highly edited versions of what they can do. In trials, you have to back it up in front of the manager - more than once.
Luke Rowe and Ian Hogg are about to undergo the process of convincing new Wellington Phoenix coach Ernie Merrick they're worthy of being given a job this season.
Both Kiwis have been given a gift-wrapped opportunity to impress following the departure of long-time left-back Tony Lochhead.
Rowe is a member of the club's school of excellence and accumulated two caps at senior level last summer and Hogg arrived in Wellington late in the season on a short-term deal and made six appearances.
Both sit in pole position to earn a contract as Merrick has only two import spots left for his roster following today's axing of Benjamin Totori and it seems unlikely he would use one on a left-back.
Merrick said he wanted to see more of Hogg, 23, before he makes a decision on his future but the All White is nursing an ankle injury in the short term.
Rowe, 21, has already had an up-and-down football career and the next two months might determine whether he climbs to another peak or has to start his ascent again.
"[Merrick] just said to me that he's going to give me every opportunity to gain a contract,'' Rowe said. "I've just got to try to grab it with both hands and run with it, really. Hopefully I impress him over the next few weeks.''
The Phoenix began their lengthy pre-season campaign on Monday and Merrick said he won't rush to a decision on whether Hogg or Rowe would be given a contract.
Rowe was cut from Birmingham's youth set-up in 2011 and was devastated to miss a spot in the New Zealand Olympic side last year before he came to Wellington as part of the Phoenix's first intake to their academy - although he was largely limited to Team Wellington duties last summer.
A callup to the All Whites to play the Solomon Islands in a World Cup qualifier in Honiara in March gave him a much-needed confidence boost.
"I'd say probably a month before last season ended I had no idea what I was going to do and then all of a sudden I got called up to for the All Whites and I ended up playing the last game of the season [for the Phoenix] against Melbourne Victory and it just sort of changed the whole thing around,'' Rowe said.
"That's what football does. One week you don't know what you are doing and then next week everything changes. But I feel like I'm on the up at the moment and I think it's the best I've felt in a couple of years.''
- APNZ