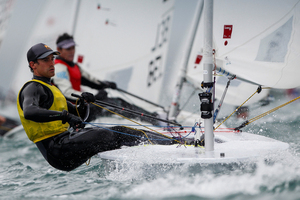 Sam Meech has secured his first Eurosaf Champions Sailing Cup victory, winning gold in the Laser class at the Sail for Gold regatta in Weymouth, England.
Andy Maloney also finished fourth, representing a good regatta for the Kiwi sailors.
Meech led from the first of five days when he notched two wins and went into the medal race overnight (NZT) with a mammoth 19-point margin. The 22-year-old needed only to keep out of trouble to secure gold and managed that with a seventh in the 10-boat medal race.
"I'm really happy,'' said Maloney, who is a two-time medallist at the youth world championships. "It's been a really long trip over here, and it's awesome to end on a high. I just had really good form, and I really like Weymouth. I've had good results here in the past so I've really enjoyed the week.
"I was pretty confident [going into the medal race]. I had a really good lead so all I had to do was finish the race so I just made sure I wasn't over the start line and got on with it.''
There is considerable depth being established in the Laser class and Maloney continued his good form. He won gold at the World Cup Palma, gold at the Eurosaf Champions Sailing Cup Garda and bronze at Eurosaf Champions Sailing Cup Holland (Delta Lloyd Regatta).
Olympic champions Jo Aleh and Olivia Powrie retained third at the 470 European Championships after securing an eighth and second in their two races overnight. They are just two points behind the joint leaders from France and Austria heading into the penultimate day of racing.
"Day four was at least a little better than yesterday,'' Aleh said. "We had a mixed day, with a terrible first leg to the first race where we rounded the top mark in the 20s but we got back up to finish in eighth.
"The next race was finally a better-sailed effort. We had a great start and just did the simple things right to round the top mark in second. We had a great battle with the Austrians, passing them on the next leg, but then they got us back on the final downwind leg to the finish.''
Paul Snow-Hansen and Daniel Willcox sailed their best race of the series so far with a fourth and are ninth overall.
Final results from the 2013 Sail for Gold Regatta, Weymouth, England,
Laser: Sam Meech, 1; Andy Maloney, 4.
New Zealand Standings at the 470 European Championship in, Formia, Italy:
Women (41 boats): 3rd - Jo Aleh and Polly Powrie (0, 0, 3, 6, 12, 7)
Men (69 boats): 9th - Paul Snow-Hansen and Daniel Willcox (15, 13, 9), 54th _ James Turner and Carl Evans
- APNZ