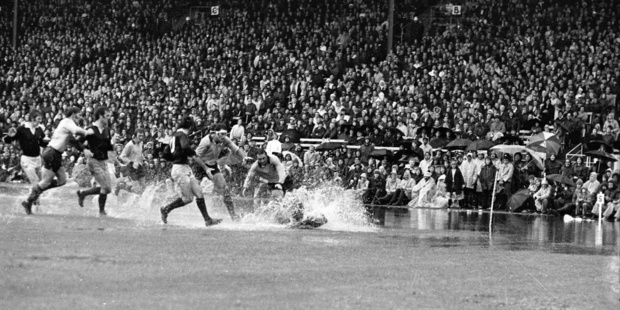 As the All Blacks approach their 500th test tomorrow, rugby writer Wynne Gray trawls through some of his most memorable experiences attending matches involving the national icons. He has reported live on nearly half those internationals, and was at a number of others before he shifted into the press benches
1. July 22, 1961.
All Blacks 13 France 6.
Halfback Des Connor was the epitome of cool, certainly to a sports- mad kid who had watched provincial games at Eden Park, courtesy of his grandfather's season tickets.
Connor may have been a Wallaby but he was an All Black then, someone who wore the No7 jersey, in those days, with distinction and was lining up for France's first trip to New Zealand.
The chance to attend my first All Black test was thrilling. Newspaper reports were devoured and questions asked of relatives before the day arrived.
As we got near the turnstiles and ticket boxes, my grandfather and father screened me with their greatcoats as the official winked and let us through.
We squeezed into our allocated two seats until referee Allan Farquhar blew time on and the start of a journey watching and then reporting, live, on the All Blacks. The handling and deception of French backs like the Boniface brothers, the kicking aplomb of Pierre Albaladejo and the bristling play of Michel Crauste fascinated but Connor was my star as the All Blacks squeezed out a win.
2. August 14, 1971.
All Blacks 14 Lions 14.
The Lions had been a sensation throughout their tour, damaging the men in black up front with their quality scrum, cohesive locks and loosies. They also dazzled with their backs.
Gareth Edwards looked even better than Super Sid, Barry John tormented 'Fungus' McCormick with his tactical kicking while David Duckham, Mike Gibson, John Dawes, Gerald Davies and JPR Williams were so classy.
Eden Park was the denouement with the All Blacks desperate to salvage the series in Colin Meads' final test. JPR dropped a magnificent goal and Laurie Mains equalled with a late penalty but the scores stayed deadlocked until referee John Pring signalled time.
Many of us felt numb about the result but marvelled at the way the Lions brought a different style of rugby to our shores under the sharp tuition of coach Carwyn James.
3. June 14, 1975.
All Blacks 24 Scotland 0.
We were sodden inside and out for the entire day. Thirsty mates from down the line visited our Sandringham Rd flat for imbibing competitions before kickoff.
The match attire was a parka worn over shorts and rugby jerseys as we stood in the terraces. At halftime we goofed about in the deadball zone without any official intervention.
Eden Park appeared to have been hit by a monsoon. BeeGee walked on water for a couple of tries as the All Blacks snorkelled their way to victory with Joe Karam incredibly converting all four tries. It was a remarkable result in conditions rarely encountered since.
4. November 1, 1980.
All Blacks 23 Wales 3.
A chance to watch the All Blacks play overseas at a test to celebrate Wales' centenary at their most hallowed rugby arena was too good to pass up.
Five-eighths Nicky Allen had been a visitor to our flat and was picked to lead the backline. We had to be there. Graham Mourie scored after an outrageous dummy, Allen had a few close calls and was then awarded a try when he looked to have bounced the ball.
With the score mounting we began thinking about our safety. We were parked in the middle of a throng of Welsh supporters and thinking if the roles were reversed at home, how messy it would have been.
When the final whistle sounded, the Welsh could not have been more gracious. They invited us to share the liquid warmth of their local boozer where we were treated to some of the best singing and good-natured banter you'd want. Those were the days.
5. July 29, 1989.
All Blacks 49 Argentina 12.
For several years, Michael Jones had spoiled us. He offered a new level of work with his blend of explosive power and skill while he tested traditionalists with his never-on-a-Sunday stance.
As a working journalist it was a pleasure to report on his impact and then dismay when he wrecked his right knee ligaments in a collision during this international.
In those days it was possible to get past the whitecoats and NZRU officials who inhabited the fusty corridors and rooms under the main grandstand at Athletic Park. My quest got me to the Zambuck's room where Doc Mayhew and his team were organising Jones for a trip to the local hospital. Only a few words were muttered but the signs were clear, Jones would not be playing rugby again for some time.
Pick your moments: Meads' broken arm, Kirwan's Achilles, Fitzy's knee - this was one of those.
6. August 15, 1992.
All Blacks 27 Springboks 24.
No side had toured South Africa and played a test for 15 years.
This trip was tagged on after a tough series defeat in Australia. We had all been raised on stories about the complex struggles on and off the field in the republic, now we would get the chance to judge.
Pre-match there were all sorts of shenanigans including late threats to cancel the match unless Die Stem was played.
The Boks had picked men like Naas Botha, Danie Gerber and Uli Schmidt who had substantial reputations but were past their best.
The All Blacks had won their four tour games and were favoured to take out the Ellis Park test.
The atmosphere was raucous and edgy - and that was just in the press box.
The All Blacks surged out to a decent lead on the back of Zinzan Brooke's audacious tap and run try but the Boks never relented and got within three when Gerber scored his second try on the bell.
For those of us used to inbound tours or trips to Europe and Australia, this was very different. The thirst for rugby, meeting Danie Craven, watching the vastly different layers of society - this trip was distinctive and provocative.
7. June 24, 1995.
Springboks 15 All Blacks 12.
Where do you start on this extraordinary day - perhaps the most unforgettable rugby occasion in my working life.
Cars continued to honk their horns through the night as they streamed around the All Black hotel, bogus phone calls got through to players' rooms, a tackling bounty was placed on Jonah Lomu while the team hotel was swept for bugs.
That search failed to locate the source of the food poisoning which laid them low and which coach Laurie Mains later claimed had been instigated by bookmakers.
At the ground, a rumbling noise provoked startled looks. There had been regular threats about security but the apprehension eased when a jumbo jet, with Good Luck Bokke emblazoned on its undercarriage, thundered over the arena.
The stirring black workers' song Shosholoza was a backdrop to President Mandela's arrival. He was clad in a Springbok jersey instead of his usual colourful shirt as he met the players before kickoff in a match which throbbed into extra time before Joel Stransky dropped his famous clincher.
The Rainbow Nation set off on an extended joyous celebration while Saru president Louis Luyt disgraced himself with a gloating speech at the official dinner.
8. July 29, 1995.
All Blacks 34 Wallabies 23.
Jonah Lomu had been the stellar act at the World Cup and in this test he was even more lethal. His display recalled the telegram sent to the All Blacks which said: "Remember rugby is a team game so all 14 of you, pass the ball to Jonah."
Lomu scored once and laid on four others in Sydney. It was a staggering contribution in a match which was wedged in between secret meetings to entice players to join a rebel World Rugby Corporation.
Towards the end of the World Cup, Sanzar had announced a multi-million dollar television rights deal with Rupert Murdoch after the media magnate had seen Lomu's contributions. Now a rebel WRC offer threatened to destroy that concept.
Rugby was clearly headed towards professionalism, the ambiguity was all about who would govern the game.
9. October 31, 1999.
France 43 All Blacks 31.
Once again the All Blacks had been the team of the World Cup. Soon after the interval they were two converted tries ahead and apparently, steaming into another tournament final.
From somewhere, France drew a response and in the next 27 minutes France piled on 33 unanswered points.
It was innocuous at first, a couple of dropped goals before that scoring trickle became a stream with Dominici's try and a torrent with Dourthe's touchdown. The alarm was widespread, the dread written all over the faces of the coaching staff.
This was a reversal without explanation although some players felt team orders not to retaliate to any French illegalities might have had some impact. Perhaps but not to this extent. As the French spirit soared, the All Black mistakes swelled.
Nantes 1986, Eden Park 1994, Twickenham 1999-sacre bleu!
10. July 2005.
All Blacks 48 Lions 18.
Widespread changes to the Lions side made no difference as All Black five eighths Daniel Carter shredded the visitors with a personal haul of 33 points.
Defeat was a massive rebuff for unlovable Lions coach Clive Woodward and his bloated cast, the guillotine for their £9 million project as Prince William watched from the stands. They got some early hope with Gareth Thomas scoring after two minutes before Carter embarked on his high-class suffocation of the Lions.
An ugly undercurrent festered throughout but referee Andrew Cole was unwilling to deal out any punishment, other than penalise the miscreants. Carter danced around the dross and his opening try when he grubbered past Josh Lewsey and tiptoed down the sideline, was a gem and a hammer blow for the Lions. This rivalled Carter's most imperious performances in his superb career and was a great stage on which to deliver a comparison to another of the game's classy five-eighths, Jonny Wilkinson.
Miscellany
• The All Blacks have played more tests against Australia (146, won 99) than any other team, 61 more times than they've played South Africa.
• Their winning percentage against South Africa (56.5), is 10 percentage points worse than against any other opposition. The World XV, who they met three times in 1992, are the only other side to have won a third of their tests against the ABs.
• As an indication of the volume of rugby played nowadays, Richie McCaw (116 since 2001) has played in 23.2 per cent of all All Black tests. By contrast, the great Colin Meads played 55 tests (11 per cent) in a 14-year span between 1957-71.
• Ben Afeaki was All Black No1119, though not all played tests.
• The 1920s was the All Blacks' least successful decade, with the side winning just 10 of its 18 tests (55.6 per cent). The decade earlier was the most successful, with an 85.7 per cent success rate - six from seven. In the first decade of this millennium, the All Blacks won 106 of 126 tests played, an astonishing 84.1 per cent ratio.