Code of behaviour judicial hearing set to rule on Warner's bar altercation.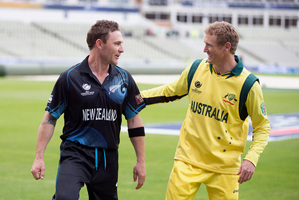 Australian stand-in captain George Bailey has described David Warner's bar altercation as "very minor" and admitted he was made aware of the incident several days before Wednesday's match against New Zealand.
Warner was at The Walkabout bar in Birmingham on Saturday night drinking with teammates and England rivals, when the Australian opener punched Joe Root.
The 26-year-old was stood down from Wednesday's Champions Trophy clash against New Zealand at Birmingham, which was abandoned because of rain, but still attended the match and carried drinks.
When asked whether Warner and the other Australian players present had immediately notified management of an incident occurring, Bailey said he couldn't comment further.
A Cricket Australia code of behaviour judicial hearing is expected to take place, potentially in London, tomorrow - however it could occur earlier and be done by phone hook-up from Melbourne.
Confirmation Australian team members were aware of the incident days before it was made public is a worrying sign for management should Warner be found to have a serious case to answer. Bailey said he was disappointed but that the issue was being overblown.
"A few days," Bailey said when asked when he first heard of Warner being in trouble.
"But it's being dealt with. From my point of view, disappointed. But a very minor incident and it's being dealt with in-house."
Bailey put his foot in his mouth when asked about Warner's mood when he arrived with the team at Edgbaston on Wednesday.
"I thought he took it on the chin and his attitude around the group today was outstanding," said Bailey, before adding: "No pun intended."
It's Warner's second disciplinary hearing in three weeks, after being fined nearly $6000 for abusing two Australian journalists on Twitter.
There are also reports Warner had been out drinking on Monday night as well, with the manager of The Walkabout describing him as a familiar face. There are now calls for him to be sent home from the tour.
Bailey defended Warner as a good teammate. "I really enjoy playing cricket with him. Love playing cricket with him," Bailey said. "Love his enthusiasm. Love his energy around the group. Love the way he plays. I wish I had the talent that he does and I think he's a particularly generous teammate."
Speculation about the assault was originally circulated by New Zealand players who heard about Warner's trouble when they turned up at Edgbaston for training on Tuesday.
Black Caps captain Brendan McCullum confirmed he was aware of the speculation on match eve, but that New Zealand got on with their own game.
Wednesday's match was abandoned with New Zealand 2-51 after 15 overs, chasing Australia's total of 6-243. A minimum of 20 overs an innings need to be completed to constitute a match, meaning the points were shared in the clash.
Australia can still make the semifinals, but their destiny is now mostly out of their hands.
Their best chance of progressing is if England smash Sri Lanka tonight and also beat New Zealand in their final group match on Sunday.
That scenario would mean England would progress with three wins and give Australia a chance to edge past New Zealand into second in the pool with a final win over Sri Lanka.
Australia would need to get their run rate up to a sufficient level to pip the Black Caps.
- AAP