Recruiting plans, including the fate of Nathan Friend, in limbo as club pursues classy Super League fullback.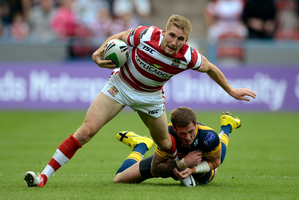 Sam Tomkins' decision on whether to join the Warriors next season has a huge bearing on the remainder of the club's recruitment strategy, including whether hooker Nathan Friend has a future at Mt Smart Stadium.
Friend was told last week they wouldn't be taking up their option on him for 2014 - clubs are required to do that by round 13 - making him a free agent. They also told him they might offer him a new deal but that seems entirely dependent on who else they recruit, or miss out on.
Tomkins has been their No 1 target for some time and Souths owner Russell Crowe did his best to muddy the picture at the London movie premier of the appropriately-named Man of Steel - Tomkins was last year's UK Super League Man of Steel as the league's best player - by telling him to steer clear of the Warriors.
Whether Crowe was being mischievous or not - Crowe and Warriors owner Eric Watson famously got into a stoush in the toilets of a London restaurant in 2002 - the Warriors will want to bag their man soon. The Wigan fullback is also reportedly a target of the Titans.
"If you ever want to have a conversation ... you are a brilliant player," Crowe told Tomkins, who was interviewing him for Sky Sports. "Don't, whatever you do, go to a team in the NRL that's not in Australia."
The Warriors remain hopeful Tomkins will sign and it's hard to see Friend having a future at the club if that happens. It would see an increasingly congested picture at fullback, which would have a flow-on effect to the halves and hooker.
Yesterday, the club confirmed the signing of Cronulla half Chad Townsend, which was helped by the immediate release of Harry Siejka, and Kevin Locke would also come into the mix.
Thomas Leuluai, who has played five-eighth all season, is likely to shift into hooker alongside Pita Godinet meaning Friend probably wouldn't be needed or afforded.
"We advised Nathan we weren't in a position take up the option on his contract," Warriors chief executive Wayne Scurrah said. "That doesn't mean we're not interested but we are still trying to manage the salary cap and the rest of our roster."
Friend's preference is to stay in Auckland, particularly as he has a young family who are settled here, but the club are mindful of the fact he is 32 and has had troubles with his shoulder in his 18 months here.
"They tell me that I'm wanted," Friend said. "I guess time will tell. Hopefully, they come back with something that allows us to stay here for another year because that would be fantastic."
Friend, who is reportedly on about $300,000 a season, also said he would consider a pay cut to stay.
"It depends how much less, but for sure," he said. "That's something the wife and I will have to consider if they table something. There is some other interest out there."
- APNZ