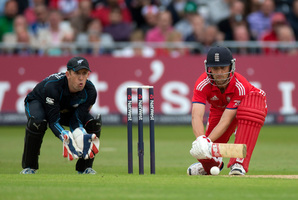 New Zealand captain Brendon McCullum has endorsed Luke Ronchi as the country's one-day opener and wicketkeeper despite three failures and two minor starts with the bat across the England series and Champions Trophy.
Ronchi has struggled with balls on or just outside off stump. He has been dismissed in that area in four of his five innings. He has scored 45 runs at an average of nine for New Zealand over the last fortnight, the bulk of which came in 22 off 17 balls in the loss to England at Nottingham.
Video analysis homework enables teams to pinpoint areas of weakness. Ronchi's mandate to get cracking in limited overs has made him vulnerable and will continue to do so with the prospect of facing James Anderson, Stuart Broad and Steven Finn again in Cardiff on Sunday.
Ronchi's licence to play freely at the top of the order could be transferred to No6 or No7 where he could be of value in the last 10 overs.
The decision for Ronchi to open is curious because it seems to have little statistical logic. In first-class matches last season he scored 807 runs at 62.07 in the Wellington middle order. In T20s he also batted further down. In the Ford Trophy one-dayers he opened four times for scores of 0, 16, 76 and one. He also made 36 coming in at No3 during the second over of another match. Those returns appear to make his selection to open at international level more of a punt.
Ahead of his New Zealand one-day debut at Lord's (Ronchi already had four ODI and three T20 caps with Australia) he admitted Adam Gilchrist, whom he grew up watching at Perth Cricket Club, was the cricketer he sought to emulate.
The problem comes with getting the combination right. No one else in the Champions Trophy has done it, apart from Matthew Wade stepping into the role on Wednesday where he made 29 as a late replacement for David Warner. Kumar Sangakkara bats at No3 for Sri Lanka but came in second ball against New Zealand.
McCullum is keeping faith.
"Ronch is disappointed he hasn't got that one big score yet but his keeping has been outstanding. He's a valuable member of the team and an experienced player.
"His role at the top of the order is to get us away to a quick start. Sometimes when you're playing high-risk cricket you get out cheaply.
"We're confident Luke will come good shortly. When he does he's going to tear a team apart. We're confident he's got a big part to play in the coming games."
McCullum is right about Ronchi's wicketkeeping. He has taken seven catches, made a stumping, assisted with run outs and conceded one bye in 244.1 overs of ODIs in England.
The simple solution could be to switch Ronchi and James Franklin. Franklin is experienced facing the new white ball in England's domestic competitions.
Coach Mike Hesson has already indicated Franklin is the squad's back-up opener and potentially forms a disruptive left-right combination with Martin Guptill.
Evidence from 2010 might swing the decision in Franklin's favour. He had an excellent return opening or batting at first-drop for Gloucestershire. In the 40-over competition, he averaged 73 - making a couple of hundreds and fifties with a strike rate of 92.
In the T20 matches, he averaged 39.16 but stepped the strike rate up to 130. A highlight was 90 from 50 balls against Sussex. For Essex last season, he faced the new ball in the majority of his 10 T20 innings. He averaged 27.55 with a top score of 78 and a strike rate of 111.
Former coach John Wright flirted with the idea of Franklin opening in limited overs but he's done it only twice at international level, both last year in T20s when he made 60 from 37 balls against Zimbabwe and 35 from 36 against Bangladesh.
Luke Ronchi
Born: Dannevirke
Age: 32
Major teams: Australia, Australia A, Hampshire, New Zealand, Wellington, Western Australia