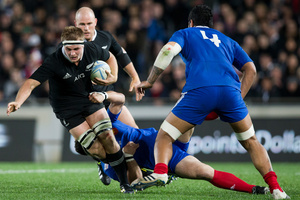 It's possible the rugby public have failed to grasp what they have in Sam Cane. Operating in the shadow of Richie McCaw can do that - it can distort the picture.
The All Blacks don't particularly mind that the nation's imagination has not been captured. Nor is there any angst that there remains widespread uncertainty whether Cane is even the right man to play at openside while McCaw recuperates.
Coach Steve Hansen believed he had something special when he gave Cane his debut off the bench in the second test against Ireland last year. Hansen now knows he has something special. Cane's constant search for improvement has seen him elevated into the All Black leadership group. His promotion is an indication that Cane is a future All Black captain.
Capped at a younger age than McCaw and now promoted into a senior role earlier, Cane's achievements are phenomenal.
"He's put in some really good performances and his game is not just one facet," says Hansen. "He's not just a fetcher - he's good over the ball, he's a good ball runner and he's scored three tries in five tests, so he has got great lines of support.
"He's intelligent, to the point where he's come into our leadership group which is a bit about the future but also an acknowledgment of where he fits in the group.
"His performance levels have been of a high standard - not of a guy learning - but higher than that. He's still got areas of his game that he'll improve over time, but I think he can be a special player."
Tomorrow's test provides a juncture at which Cane's progress and value can be neatly assessed. Having played against Ireland, Italy and Argentina, France are the most imposing side he has faced.
Their loose trio have experience, size and a bit of nastiness to them, which made them a handful last week when they were able to dominate the All Black ball-carriers to make Cane's life difficult at the breakdown.
That he wasn't able to be as effective as he wanted had everything to do with the poor presentation and body position of the All Black ball-carriers: Cane was exactly where he should have been, arriving at 22 breakdowns as one of the first three forwards. He also made 10 tackles and scored a try.
The added difficulty this week is that Cane will be wearing the All Black No7 jersey in Christchurch - the city where the aura of McCaw is greatest.
Cane knows he'll be judged more harshly there than anywhere else.
In some ways, it has been the ease with which Cane has dealt with the looming shadow of McCaw that has most impressed the All Black coaching staff. In the 12 years since McCaw made his test debut, other opensides have come and gone - none, really, with the exception of Marty Holah, coped with the curious situation of being so obviously the second choice.
Cane is different - perhaps partly because he is part of a generation of players Hansen says are easily the most professional he's encountered in his long coaching career. But it's also partly because he's been able to see the opportunity and not the threat.
"If it's the only thing you have had to deal with then it's normal," says Hansen. "So I think Sam sees that [the constant presence of McCaw] as normal. He doesn't see it as a burden. He relishes the fact he can rub shoulders with Rich and share ideas, learn things and ask him questions.
"It is about being in control of your own performance and saying, 'I don't control selection ... I just have to control how I play and let the selectors worry about that.'
"By doing that he's then putting the pressure back on Richie because Richie has to perform to stay in the team. Nothing lasts forever. At some point there might be a changing of the guard."
McCaw has set a spectacular benchmark for opensides in this country, making it almost impossible for fair assessment of others. But Cane is a player who stands up to comparison with McCaw at the same age.
Should the All Black forwards deliver on their promise to stay on their feet longer in contact and dominate the collisions tomorrow, it may become a little more apparent just what this Sam Cane bloke is all about.