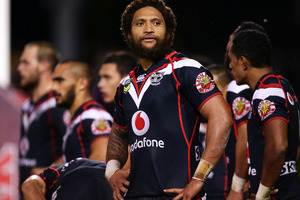 The NRL is halfway through the season. Michael Brown of APNZ plays school teacher and evaluates the Warriors' season to date.
Attack
The Warriors have rated reasonably well in this department. They score, on average, 19.5 points a game and that is usually enough to put them in with a chance of winning games. It took some time for the players to adapt to coach Matt Elliott's new structure and they were far too predictable in the early stages of the season but this has improved over recent weeks and looks a lot more fluid. They have scored the fourth-most tries this season (46) and their 56-18 hammering of Brisbane was as good as anything the 2002 side produced. Their last play options still
need improving, especially their kicking game. B
Defence
It's hard to make much of a case for the defence, given they have conceded the second-highest number of points in the competition (330 at an average of 25.4 a game), but the Warriors' defence this year has been better. They are much fitter than they were last season and have brought considerably more steel. There were obvious examples when this fell away alarmingly - like the 62-6 defeat to Penrith and 28-4 loss to Cronulla _ and they have looked vulnerable on the right edge but they seem to have a lot more confidence in their defensive structures and each other.
This was highlighted in last weekend's 18-16 win over Manly. On six occasions they have led heading into the final 12 minutes only to be run down on four of them but this was more about mental frailties than defensive ones. C+
Results
This is really the only category that matters and, with only five wins in 13 games, the Warriors are sitting near the bottom of the table. Incredibly, however, they are only four points outside the top eight and, if they can maintain the sort of form they have over the last three weeks, the playoffs are not a fantasy. They go into Sunday's match against the Roosters on a three-game winning streak, which is the first time they have won three on the trot since July 2011. As underwhelming as that might sound, it constitutes progress. D
Coaching
It's hard to get a true handle on Matt Elliott. He has talked often about the ``process'' of developing the Warriors and it is clearly a work in progress. He has brought a structure and encouraged players to back themselves but some have talked about how they have found it hard to fit into that structure or the fact it doesn't suit their game. Elliott has considerable control at the Warriors on a number of levels, and the backing of the club's owners and management, and has made significant changes with new and enlarged personnel. Some don't feel they fit within this, including juniors coach John Ackland, but most are on board. In many respects he is operating at a much more involved level than just head coach, and it's possible he will take on a role as a director of football in future. B-
Goalkicking
It's generally accepted a 70 per cent success rate is the minimum standard a goalkicker should look to achieve. Shaun Johnson sits on 69 per cent, which proves he's not as bad as some people think, but it ranks him in the lower echelons of NRL goalkickers. The 22-year-old is improving but it doesn't look like it comes entirely naturally and it is another pressure on a player trying to establish himself as one of the best halfbacks in the game. He is, however, their best option and the Warriors have more chance of winning games if their scores go up in increments
of six rather than four. C+
Best player
There have been some fantastic individual performances - Feleti Mateo, Kevin Locke, Glen Fisiiahi, Manu Vatuvei and Shaun Johnson spring to mind - but few have produced consistently. Prop Ben Matulino is the exception. He had a slowish start to the season by his high standards but his numbers compare favourably. He runs for an average of 110m a game and combines it with strong defence (he's missed only eight tackles all season and five came in one game), few errors (three all season) and a good workrate. The Warriors' four prop rotation is among the best in the NRL and Matulino is their leader. A-
- APNZ