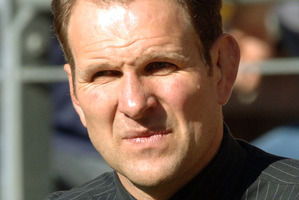 New Sharks CEO John Smit has not renewed the contract of coach John Plumtree and the Kiwi will be replaced by former Springbok centre Brendan Venter.
Plumtree, who led the Sharks to two Currie Cup trophies and a Super Rugby final in his five years in the job, will go at the end of the current Super Rugby tournament with Venter then taking over as director of rugby.
Smit confirmed that Venter, who coached Saracens in England, was his first choice and said that it was "unfortunate" Nick Mallett had spoken to the media about being approached. "There was contact made with him to see if there was a role he could play, but it was an unnecessary way for Plum to hear the news in the media," he said.
Smit, who worked with Venter during the two years he spent at Saracens, gave force to the saying that a new broom sweeps clean when he made the announcement at his first press conference at Kings Park yesterday.
The former World Cup-winning Springbok captain, who officially starts work next month, praised Plumtree for his contribution to the Sharks and acknowledged that it had been a difficult decision to take, but said he intended to "freshen things up" at the franchise.
"It's a difficult decision to get rid of a coach as good as John Plumtree, but it's part of a process of trying to create something fresh and new for both the players and the supporters."
Smit said he had not taken the decision lightly, or alone, saying he had consulted all the major role-players in the Sharks franchise.
Explaining why he had chosen Venter, Smit said: "I've seen first-hand what he can and does do; he's created something quite special at Saracens in terms of the rugby environment and the environment off the field as well. It's something that appealed to me and the reason why I looked to get him here."
The decision to get rid of Plumtree was not unanimous. Outgoing CEO, Brian van Zyl, said he wanted to place on record the fact that he had recommended that Plumtree's contract be extended for another two years. He had, however, been overruled.
Van Zyl said that when the board had appointed Smit in April, they also gave him licence to make decisions about how to build a new team management.
Explaining his philosophy, Smit said he wanted to tweak the Bulls' motto, "execution before innovation".
"As far as I'm concerned, we want to have execution as well as innovation as part and parcel of everything we do on and off the field."
Venter is currently assisting Junior Boks coach Dawie Theron in the IRB Junior World Championships in France. Smit said the former Springbok centre would coach the Sharks in the Currie Cup starting in August.
Asked whether he intended to beef up and restructure the Sharks' technical team, Smit would only say: "We'll see. I've only been in the job two days."
He did, however, leave open the possibility that a head coach could be appointed to complement Venter's position as director of rugby.
"They are two different jobs, and it would be a different way of running our rugby structures to a degree. There will certainly be more than one person controlling the large number of talented rugby players we have at the Sharks."