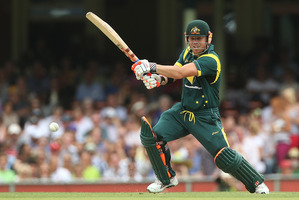 The David Warner-Joe Root skirmish has provided a peach of a story for a hungry British sports press machine to chomp into ahead of the Ashes.
A relatively tame Antipodean Champions Trophy encounter between Australia and New Zealand turned into a fascinating observational opportunity as each juicy, salacious detail was savoured. Scribes sat hunched in clandestine corners with phones wedged between shoulder and ear as pens frantically scrawled information from no doubt impeccably-placed sources.
It was the perfect storm required for the Ashes 2013 build-up. Not only was an Australian player swinging his fist on the booze; he'd also delivered the blow on an English player currently enjoying a press honeymoon on the back of prodigious form. The incident has been a catalyst towards building nationalist fervour in defending the series' terracotta urn. Ashes anticipation was whipped into a further frenzy.
Predictably, The Sun led the way on the headline front with "Ashes to Bashes" before getting the word "PUNCHING" in capital letters into their intro; a reference to the alleged glancing blow landed by Warner on Root's chin in Birmingham's Walkabout pub at 2am following England's Champions Trophy victory at Edgbaston last weekend.
Fellow tabloid, The Daily Mirror pushed for "EXCLUSIVE" status (again in capitals) with their angle "England star Joe Root attacked by Australia batsman David Warner in bar fight over WIG". The story went on to say: "Warner grabbed a fake hairpiece Root was wearing on a night out, before striking the Yorkshireman across the face in front of stunned onlookers."
According to their sources the punch took on more impact, "sending him flying backwards".
The Twittersphere was full of gags relating to Warner's recent poor form along the lines of trying to punch Root but still only getting a nick.
The Telegraph dug further into the yarn, alleging Root had been wearing the green and gold wig in a manner deemed to be impersonating South African Muslim cricketer Hashim Amla. They suggested that might have been the justification behind Warner's assault; Root was perceived to be poking fun with his imitation. There were no suggestions Root was mimicking New Zealand's Daniel Vettori, an equally hirsute member of the international cricket community.
The broadsheet added more background, stating: "The England players were enjoying their first night off since May 12 and it is understood there had been no interaction between the two groups until the flare-up. Warner was pulled away by Australian team-mate Clint McKay and the small group of England players there, including Stuart Broad and Chris Woakes, immediately left."
The Guardian focused on the aftermath, ascertaining from the pub operations manager that Warner picked up the tab after the altercation. Quotes from the staff member contradicted other media by claiming no punches connected.
There were further mitigating factors for Warner as a regular at the pub so far on tour: "Our bar staff are quite familiar with David's face and he's never caused us any problems," the operations manager said. However, the tab was labelled as "minimal".
Warner was dropped from this morning's match pending a Cricket Australia investigation but, in a touch of irony, he regularly ran onto the field to administer drinks.
Warner last month came under fire for a Twitter tirade directed at two respected Australian cricket journalists after a story about corruption and fixing in the Indian Premier League was illustrated with a picture of him.
After posting a tweet laden with expletives aimed at journalist Robert Craddock, Warner took issue with Craddock's News Limited colleague Malcolm Conn in abusive tweets that sparked an exchange.
He was found guilty of breaching Cricket Australia's code of behaviour and fined A$5,750.
Warner struggled against England in his sole Champions Trophy outing, scoring nine runs in 21 balls. He also failed to score in warm-up games against India and the West Indies.
If there's a conclusion to be drawn from the latest incident it's that the actual Ashes can't come soon enough. The downside is it's still 27 days before the first test starts at Nottingham.