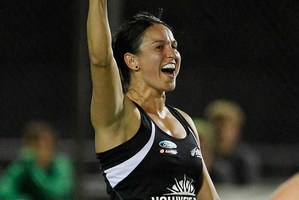 It's not written down, no little (c) beside her name, but there's no doubt who'll be calling the shots when New Zealand's World League semifinal hockey tournament starts in Rotterdam tonight.
Kayla Sharland and Emily Naylor are co-leaders of the New Zealand team, who will start warm favourites to qualify for December's finals in Argentina when they kick off their campaign against India tonight.
However, of the two it is midfielder Sharland, with 182 caps, who calls the shots. Defender Naylor, whose 216 international appearances make her the squad's most-capped player, is her sidekick.
"We never named them as co-captains," coach Mark Hager said of the 27-year-olds.
"When I started, someone in media named them as co-captains and it stuck."
Hager distinguished between the roles of the pair.
"They're different personalities, Emily is quieter and leads by example. She's in control of the warmups, getting them prepared, whereas Kayla runs the onfield leadership side of it. She leads with her voice and positioning people."
During recent tournaments New Zealand have hosted, involving Argentina, Korea and the United States, Hager had a senior players' group involved in off-field processes, players like strikers Katie Glynn and Krystal Forgesson, midfielders Gemma Flynn, Stacey Michelsen and Anita Punt.
Hager believes spreading responsibility, and getting more engagement from a wider group of players, is beneficial.
"We feel there's a need to develop captains down the track. At some stage players are going to move on."
As world No 3 nation, New Zealand should be capable of finishing among the top three of the eight-team tournament, thus securing their place in Tucuman in December.
And yet former Australian star striker Hager admitted to a slight feeling of unease before the team flew to Europe last month.
"It's a little bit of an unknown. We're used to being all together last year prior to the Olympics, so it's a funny feeling."
He expected the three warm-up games against England - which produced a win, a draw and a loss - to have benefited the squad. India are ranked No 12 and New Zealand's other games are against No 5 Germany and No 13 Belgium.
The men's Black Sticks start their qualifying series against the formidable world No 3 Dutch early tomorrow with other pool games to follow against No 15 Ireland and No 11 India. New Zealand are ranked No 6, but hope the absence of a handful of key players, who were unavailable, will not hurt their chances.
All teams go into the crossover quarter-finals, which oddly means three pool round losses don't eliminate any team from the running for one of the three qualifying spots to go to Delhi in January.