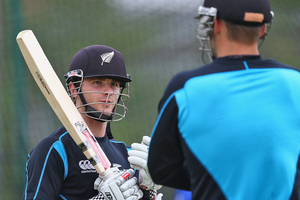 Don't expect a glut of runs when New Zealand meet Australia in their Champions Trophy one-day international tonight.
The teams will play on the same wicket used for the South Africa/Pakistan match. It appeared sluggish. Runs had to be eked out patiently. The opening 10 overs of each innings so far at Edgbaston in the tournament have been 54 without loss (England), 35 for one (Australia), 36 without loss (South Africa) and 18 for two (Pakistan). If you were the respective captains Brendon McCullum or George Bailey you'd be inclined to bat first.
In Monday's match, Hashim Amla top scored with 81 as part of South Africa's 234 for nine. Pakistan were dismissed for 167.
"The wicket deteriorated and it wasn't easy to bat on," Amla said. "When [slower bowlers] Aaron Phangiso, Robin Peterson, and JP Duminy bowled, they made it difficult and fortunately 234 was enough. I think our opening partnership of 36 in the first 10 overs was vital."
Looking at the wicket from the press box it's a fair assumption New Zealand physiotherapist Paul Close and strength and conditioning coach Chris Donaldson will be clocking overtime trying to coax Daniel Vettori's ailing body into 10 further overs. Unlike Grant Elliott who strode the perimeter with his left calf bandaged, Vettori is yet to be ruled out.
It has become a mind game if Bailey's thoughts were anything to gauge it by: "Vettori's always someone we will pay the utmost respect to and we'll play him really watchfully."
That's got to be worth a few runs for starters. McCullum must be calling for extra liniment and support tape.
It might be mind games but Tim Southee suggested Vettori was enjoying more freedom of movement after the Sri Lanka match: "There's been less discomfort. He's the best I've seen him in a while."
Southee said the team has noted how slow bowling is impacting the tournament.
"When you come to England you have the perception it'll nip around and pace bowlers will be the main wicket-takers, but the surfaces tend to be dry. Playing two games on them means spinners come into play more in the second match."
He said that is significant, given a lack of swing assistance.
"I'm finding the white balls don't swing as much as they used to. I don't whether it's because the surfaces are more abrasive or it's just a bad batch [of balls]. With the training wickets on most blocks you can get the ball to scuff which helps it reverse swing more. You need that with the new fielding rules where just four men can be out of the circle [at any time]. You need ways to put doubt in the minds of batsmen."
Despite the perceived benefits of two new balls Southee offered a concise assessment of the new ODI fielding restrictions.
"Horrible," he laughed. "You're left scratching your head wanting to have more out but it's something you have to adapt to, like mixing it up using your two [available] bouncers an over."
Bailey hinted at the pressure coming on their middle order after a loss to England and a capitulation for 65 in the warm-up match against India.
"I think the challenge when you've had a couple of poor batting performances is that guys start to doubt their place. We want our guys to go out and have absolute clarity, the freedom to bat the way we know they [normally] bat."