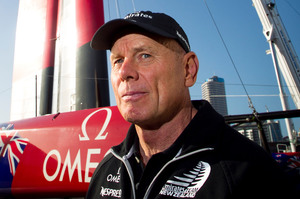 Grant Dalton has vowed to invoke a nationality clause and slash the costs of competing by around 50 per cent if Team New Zealand win the America's Cup in San Francisco this year.
The winners of the cup not only earn hosting rights, they also control the rules of the regatta.
Dalton says there are two major changes that need to be made to save the famous event.
"We stand for nationality rule and we stand for real budget numbers that real people can raise."
The Emirates Team New Zealand boss says a nationality clause is needed to make it a genuine country versus country battle, rather than pitting billionaire against billionaire. Cup defenders Oracle Team USA have just two Americans - Rome Kirby and tactician John Kostecki - in their sailing team, while Swedish challengers Artemis have one Swede in their crew.
But the only way to attract more international entrants is to significantly reduce the costs of competing, according to Dalton.
He estimates budgets need to be kept to well under $20 million a year for commercially funded teams to be viable.
"You have to frame your rules around a realistic number, then you'll get your competitors back."