Team New Zealand boss says reliance on finding billionaires 'silly enough' to fund entries must be ended to save the famous event.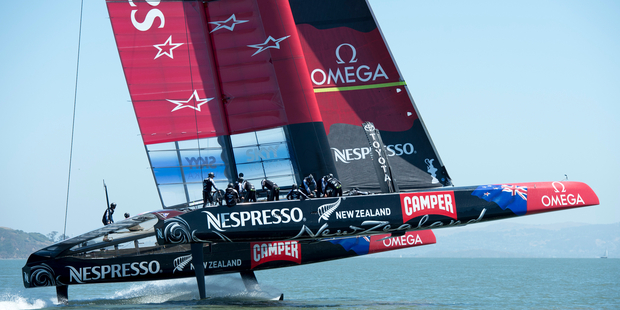 For the America's Cup to survive beyond this year, Grant Dalton believes budgets need to be slashed by more than half.
The obscene costs of launching a credible campaign - estimated at $120 million - combined with the complexity of the design project for the wing-sailed catamarans scared off all but three challengers for this year's event. The lack of teams competing has long been held up as a key failing for the masterminds behind the cup format - Oracle chief executive Russell Coutts and his boss Larry Ellison.
Coutts has responded to criticism of the costs with claims that they have increased by only 5 per cent on the last multi-challenger event in 2007, although he doesn't say which team's budget he is basing this on. It was rumoured Oracle spent upwards of $200 million on their challenge in Valencia, and still lost 5-0 to Team New Zealand in the Louis Vuitton finals.
Dalton believes the event will die out if the costs continue to spiral out of control as they have done over the past 15 years and has vowed to drastically reduce the costs of competing if Team New Zealand win the America's Cup in September.
"We stand for real budget numbers that the [French sailor and chief executive of Energy Team] Bruno Peyrons of the world can raise," Dalton told Sail Racing magazine. "If you need a billionaire to fund a campaign, then you are only going to get three teams. There's plenty of billionaires in the world, but there's not that many silly enough to throw their money into the America's Cup."
Dalton estimates that to make it possible for teams whose income is solely derived from commercial sources to enter, budgets need to be pared back to between $12 million and $19 million a year.
"So you have to frame your rules around a realistic number, and then you'll get your competitors back."
Reducing the costs of competing was a key objective for Ellison too when he set about planning this year's event. In an interview shortly after Oracle's clean sweep of Alinghi in the 2010 Deed of Gift challenge, Ellison claimed that under his vision for the new, improved cup, teams would be able to compete for as little as $4 million - a point Dalton made fun of at a charity dinner attended by Coutts last month.
Clearly at some point Ellison and Coutts lost sight of the cost objective as they set about creating a made-for-television spectacular, opting for super-slick, high-powered AC72 catamarans chosen to entice new fans with extreme sailing.
They are certainly extreme - extremely expensive and extremely complex pieces of machinery. Just three teams could come up with the money to tackle such an ambitious project, with one of them - Luna Rossa - doing so by piggy-backing on Team New Zealand's design.
Coutts recognised his mistake early, but not soon enough to change the course of the event. The Oracle chief executive told the Herald in October last year he attempted to scale back the size of the boat and make more of the elements one-design, when it became apparent many teams were struggling with the cost and complexity of the AC72.
He raised the possibility of altering the class rule at a competitors meeting in November 2011, but the designs had been done, deals were in place and in Team New Zealand's case building was under way.
With the event less than a month away and a realisation of what the race format will look like, criticism of Ellison has intensified. He has copped a barrage of negative press in the US in recent weeks, with articles like "How Larry Ellison is destroying the America's Cup" and "How Larry Ellison sabotaged his own America's Cup party" overshadowing the lead-up to the event. Added to that are almost daily stories quoting dissatisfied civic leaders in San Francisco concerned that fewer race days will mean less interest and, with fund-raising lagging, the city may even be stuck for a significant part of the tab.
Hosting an event of the scale of the America's Cup requires significant investment from local authorities, but San Francisco's experience may serve to put other cities off being involved with future events. Making hosting the cup a more appealing proposition is simple for Dalton - it again comes back to cost.
Reduce the budgets, attract more teams; attract more teams, attract more visitors; more visitors mean more money being plunged back into the local economy.
It is clear that to rein in the costs to the extent Dalton is talking about, the class rules need to be simplified with more standardised elements to cut down the research and development costs. But Dalton will not be drawn on whether that means returning to a monohull.
While the traditionalists might prefer to see the catamarans abandoned, it would be a massive step back for the America's Cup. The speed and excitement the foiling multihulls generate have the ability to capture the world's attention.
One thing Dalton is unequivocal on is that if they win the cup, it will be defended in New Zealand.
"We categorically exist to bring the cup back to New Zealand," he says.
Nationality clause on Dalton's winning wishlist
Grant Dalton is promising to invoke a nationality clause for the next America's Cup if Team New Zealand win in San Francisco this year.
It is one of the few details the Emirates Team New Zealand boss is willing to divulge in terms of what changes he will make should the Kiwis become custodians of the cup. With all his energy directed towards snatching the Auld Mug from Oracle, Dalton insists he hasn't thought much about what a future event might look like under Team New Zealand. Win or lose, he says his life isn't "programmed beyond September".
But one point he is clear on - for the America's Cup to win back fans, there needs to be a nationality clause in place to make it a genuine country vs country battle, rather than pitting billionaire against billionaire.
"We stand for two things really, and everything else will be decided largely by consultation [with the other teams]," says Dalton.
"We stand for nationality rule and we stand for real budget numbers that real people can raise."
Dalton believes, from New Zealand's perspective at least, with the defection of the country's greatest sailors including Sir Russell Coutts and Brad Butterworth to Swiss team Alinghi following Team NZ's successful defence in 2000 came the "end of innocence" for the America's Cup.
The quest for the Auld Mug was no longer about nations pitting the skill of their sailors and the smarts of their boat-building industry against one another, it had become the plaything of the world's wealthiest men.
With billionaires like Ernesto Bertarelli and Larry Ellison throwing cash around freely to buy up the best talent around the world, sailors developed a mercenary streak, auctioning themselves off to the highest bidder.
It has got to the point where Oracle, or Oracle Team USA as they like to be known, have just two Americans in their crew - Rome Kirby and tactician John Kostecki.
Coutts, the Oracle chief executive, made noises about bringing in a nationality clause for this year's event when he was in the early stages of planning the regatta, but instead assembled a "dream team" of sailors including Australia's Jimmy Spithill, Tom Slingsby and Darren Bundock, along with Britain's Ben Ainslie, one of the most decorated Olympic sailors of all time.
It is much the same with Artemis Racing, who proudly sport the Swedish flag but have just one Swede - grinder Magnus Augustson - in their team. It is little wonder then that these teams have failed to generate much interest in their campaigns from their home fans.
To ensure they attract entries from non-traditional sailing nations, Team New Zealand aren't expected to demand single nationality teams, but rather set a quota of sailors teams must reach.