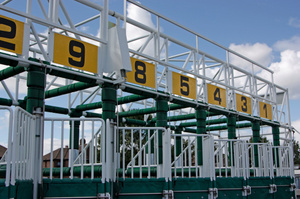 Wanganui jockey Lisa Allpress was in white-hot form on Monday, thanks to her mates at Waverley.
On the eve of her departure to an invitational race meeting in Kuala Lumpur this weekend, Allpress rode four winners and a second on the seven-race card at Waverley. Three of those winners - Joan Frances, Fred Flinstone and The Lone Ranger - are trained by Waverley horseman Sam Lennox, while her fourth winner was on the John Boon-trained Classic Rio. While Allpress has guided four home in a day numerous times during her career, lining up three and winning with all three was a first for Lennox.
"I can't recall lining up three in a day, let alone winning with them all - this is a first and it feels great, something you really only dream of.
"I went into the day thinking I might get one with The Lone Ranger. He's a tough bugger, but to get three ..."
Boon, however, has bagged three in a day before. "I did it here at home on Waverley Cup Day when the cup race was worth $70,000."
The day compared well with a January day a few seasons back when he won the Wellington Cup with Cluden Creek.
"Training three in a day at home, including the hometown cup, was probably on a par with winning the Wellington Cup when it was raced over 3200m. Had the Wellington Cup been over today's distance of 2400m, training three at home would have certainly trumped that," Boon said.
Boon is president of the Waverley Racing Club, while Lennox is his deputy and both agreed it was a shame it was on a Monday.
"Yeah, shame it's a Monday. The Clarendon [local pub] would have been humming otherwise, but we've both got horses to work in the morning and farms to run," they lamented.
Allpress was chuffed and pleased she was able to win for her mates. The 38-year-old served her apprenticeship with Kevin Gray when he trained from Waverley and the friendships formed over those years has paid handsome dividends.
"I've ridden four in a day a few times and my best is five, but this is a great feeling being able to win on the local horses - it still feels like home," she said.
- APN News & Media