New Zealanders' expectations high as they face an Australian team boasting a formidable top order.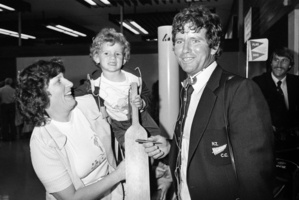 Australia's batting potency shapes as the key determinant in how they fare against a New Zealand side boosted by a one-wicket Champions Trophy escape against Sri Lanka and a series victory over England.
Based on one-day international career records, Australia's top five look world-beaters. Shane Watson, Phil Hughes, George Bailey and Adam Voges average well into the 40s. David Warner averages 29.81 but his appetite for destruction at the top of the order is established. The statistics may disguise a lack of confidence.
Australia never grasped enough momentum at 127 for four in the 33rd over chasing 270 to beat England in Birmingham at the weekend. They faded to 221 for nine. That hasn't been helped by Michael Clarke's back injury, which could see him miss the tournament. The problem has been compounded by Australia's capitulation for 65 in the 243-run warm-up loss to India and the Ashes hype.
No one is prepared to start New Zealand as favourites. It's the world's second-ranked team playing the new No7; New Zealand have won two in 14 tournament matches against Australia in their history (the last was in Cardiff during the 1999 World Cup); and the teams have played six times since Australia's win in the 2009 Champions Trophy final for a 4:2 split in Australia's favour.
Yet contrary to past form guides, New Zealand expectations are high.
Kyle Mills has an exemplary record against Australia in four Champions Trophy matches, despite the team losing on each occasion. He has eight wickets at 18.50 (career record 218 at 26.55). His most recent showing was three for 27 at Centurion in the 2009 final.
"They're going to be hurting from defeats to England in the last game and India in the warm-up. It's a must-win situation for them so they're going to feel pressure. Our path is one more win and we're into the semifinals so it's going to be a ding-dong battle. I'm not too sure of the conditions we'll encounter [at Edgbaston] but they're a bit short on spinners and, as tourists, they don't really play spin that well. Hopefully our attack can bowl 30 overs ofspin."
That seems unlikely. Daniel Vettori is struggling for selection with his Achilles tendon injury but Nathan McCullum and Kane Williamson will be warming up.
Mills sees the top order as an area to be exploited. "Any Australian line-up where a batsman is under pressure sees others champing at the bit to take their spot. They will be feeling the heat to not only win the game but hold their spots."
The last time Mills bowled to Australia in 2009 their order featured Shane Watson, Ricky Ponting and Mike Hussey. Only Watson survives tonight.
"He got a hundred that day. He's the key wicket because he's capable of holding the innings together. Warner is going to be either rocks or diamonds; he'll either kill you or we can get him early. Voges is one of those guys who has been in and out of the side a lot over five years or so. He'll be faced with trying to win a game for his country and holding his place so hopefully we can remind them of that."
Clarke's absence leaves a vacuum.
"He's a quality player," Mills says. "His form over the last two years has been phenomenal. Any side without him is a far better proposition for us."
As a 3-year-old, Mills was photographed by the Herald at Auckland airport with Lance Cairns. It was the day after Cairns wielded his Excalibur to heave six sixes to all parts of the Melbourne Cricket Ground as New Zealand bowed out of the tri-series finals with a bang.
Mills says he always takes most satisfaction out of beating Australia over all other teams.
"In my childhood it was all about taking on the Aussies. I guess we were always underdogs. That's how it's perceived and rightly so. There is no greater challenge for a New Zealand cricketer and in the last few series we seemed to do reasonably well. We always love that battle."
Australian wicketkeeper Matthew Wade said New Zealand were worthy of some pre-match favouritism. "We've taken a fair bit out of the three games New Zealand played against England and the previous games in this tournament. The wickets tend to look to be slower than what we expected but we've got to adapt straight away. Their recent ODI form's been good while ours has been up and down over the past 12 months."
Champions Trophy
New Zealand v Australia
Edgbaston, 9.30pm live SS3