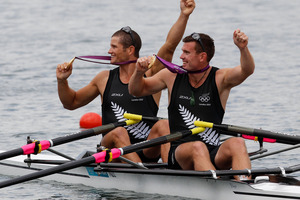 Two-time world champions, Olympic gold medallist last year, but it's a different story for scullers Nathan Cohen and Joseph Sullivan as they chart their way to the world rowing championships in South Korea in August.
Sullivan was omitted from the Sydney World Cup squad in March, controversially rated not fit enough by the selectors after competing in the Coast to Coast, but is off this week as the single sculling representative in New Zealand's elite squad for their European World Cup campaign.
Cohen has been moved into a quad, teaming up with his younger brother Hayden, Fergus Fauvel and Nathan Flannery, the quartet who won the national title on Lake Karapiro in March.
He had a decent holiday after the Olympics, which gave him time to refresh. But it also served another useful purpose.
"After the break I realised I'd started missing the sport and almost couldn't wait to get back, which was a feeling I wanted," he said.
"I didn't want to come back and feel it was back into the grind. I wanted to come back excited and really enjoy it."
The new quad's year got off to a solid start with a silver medal in Sydney behind Britain, albeit with the knowledge tougher challenges await in Europe.
However Southlander Cohen is relishing the changed dynamic from the two-seater he shared so effectively with Picton sculler Sullivan.
"I love being part of the bigger boat. That's what I thought I wanted when I was coming back, a new challenge, and I really enjoy rowing with the younger generation coming through. For me, it's been great, three guys to feed off."
Sitting in a boat with his under 23 double sculling world champion brother Hayden - he won that title with Flannery last year - is a special thrill for the 27-year-old, who finds himself the father figure in the crew.
"I'm stoked about being with him. We grew up six years apart so we never really rowed much," he said. "We get along extremely well, work well in the boat and when we're out rowing we're just a couple of crewmates trying to do our own job."
All New Zealand crews face the prospect of re-trialling when they return briefly in July before heading to the world champs. Those selections will be based on performances in Europe, and Cohen said there's a determination among the four to see the job through to Korea.
So what of next year?
Olympic and multi-world champion Mahe Drysdale is due to return after several months layoff to challenge for the world championship single seat, and then to press on towards the Rio Olympics in 2016.
That would seem the logical point to resurrect the gold medal double sculling combination. Michael Arms and Robbie Manson have their chance in that boat this year, and they won in Sydney.
Cohen is coy on what the future holds.
"To be honest I just want to get through this year first, and try not to think too far ahead," he said.
"I'd love to be in Rio, in what capacity I'm not sure yet. Hopefully we'll get to the world champs in the quad, then reassess next summer for where we want to be for the following year."
It also raises the question of whether to try and replicate something which cannot be topped.
However Sullivan and Cohen proved they have the gold standard in the double and it must be tempting to resume activities again next year.
"It is an interesting one," Cohen said of the situation. "But that was last year. I've got to focus on this year."
The New Zealand men's crew fly to Europe on Friday and compete in the London World Cup round on June 21-23.
- APNZ