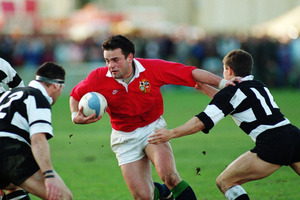 Ahead of the Blues' clash with France at North Harbour Stadium tonight, we look at games where a club team has provided more than a just training run to upset a touring side.
Newport 3 All Blacks 0, Rodney Parade, October 30, 1963
Just the third game of a 36-game, four-month tour and Newport carried on Wales' tradition of great club victories by Swansea and Cardiff.
In drizzly, muddy conditions at Rodney Parade, Newport, who had the dazzling future Lion and league international David Watkins at first five-eighth, were fired up.
The only points came from a skiddy dropped goal by centre Dick Uzzell in the first half. It was a nightmare start to the All Black career of first five-eighth Earle Kirton, who unfairly copped a share of blame for the loss.
It's worth looking at the All Black side: Clarke D., Caulton, MacRae, Walsh, Davis, Kirton, Briscoe, Lochore, Nathan, Tremain, Meads, Horsley, Clarke I., Major, Whineray (c).
Not exactly a lightweight combination.
Newport celebrated like there was no tomorrow. Indeed, a Welsh team has only beaten the All Blacks once since then. Read on ...
South Canterbury 17 France 14, Fraser Park, August 15, 1961
After losing the second test to the All Blacks 5-3, the French won their following matches in the lead up to third test with victories over Southland and Otago before their final midweek match of the tour against South Canterbury.
Maybe the French had their minds on the third and final test but it quickly turned into a physical encounter with the tourists later accused of thuggish behaviour, which was proven by a 17-3 penalty count.
The French thuggery reached a tipping point when South Canterbury's second five-eighth Eddie Smith made a run the touchline. He was stopped by a punch from Frenchman Michel Crauste who followed that up by picking Smith up and dropping him on the turf. His actions led to 56-year-old Hilda Madsen charging onto the field, striking Crauste with her walking stick.
Despite outscoring South Canterbury four tries to two, the French suffered their sixth defeat of the tour and probably their most infamous.
Hawke's Bay 29 British and Irish Lions 16, McLean Park, June 22, 1993
1993 was a mixed year for Hawke's Bay as it saw the Magpies relegated to the second division but also included one of their biggest ever victories.
The Lions arrived in Napier needing a much needed boost ahead of the second test after suffering a defeat to Auckland at Eden Park three days earlier.
Led by a strong performance from Norm Hewitt, who was selected on All Blacks tour later in the year, the Magpies outscored the Lions three tries to one with Neil Weber, Hewitt and Simon Tremain dotting down. Tremain pounced on a lineout error late in the encounter to cross the line and close out the game.
Richard Webster scored the tourists' only try while Stuart Barnes kicked penalties and Will Carling added a drop goal.
Despite the loss the Lions went onto win the Wellington test to send the series to a third test decider in Christchurch.
Llanelli 9 All Blacks 3, Stradey Park, October 31, 1972
Welsh singer/comedian Max Boyce penned a celebrated (in Wales, anyway) ditty, '9-3', which included the famous line about "The day the pubs ran dry" to mark the occasion at Stradey Park.
It was the second game of the British and Irish legs of a 32-game trek which ran from October 19 to February 10.
Carwyn James, of 1971 Lions fame, coached the side, which was a pretty tasty unit. There were plenty of Welsh internationals - Derek Quinnell, Delme Thomas and Tom David in the pack; Ray Gravell, Phil Bennett, Ray Hopkins and Roy Bergiers in the backline.
Bergiers scored the only try of the game, after halfback Lin Colling's clearing kick was charged down. A solitary Joe Karam penalty was all the All Blacks could muster.
Years later, the famous scoreline still had pride of place in a corner of the scoreboard. Long memories, those Welsh.
Waikato 14 South Africa 10, Rugby Park Hamilton, June 9, 1956
South Africa ended a 19-year hiatus when the arrived in New Zealand for a 23-match tour in 1956. But it didn't start on the right note when they were stunned by the Mooloo men in the tour opener.
Waikato were no mugs and provided a decent match-up for the 'Boks to face first up including the introduction of kicking phenom Don Clarke who would play the first of his 31 matches for the All Blacks later on the tour.
Clarke kicked a penalty, drop goal and converted one of Waikato's two tries as the home side battled to a big win, made even more impressive by that fact that they played the whole second half with 14 men after their first five broke his cheekbone.
Southland 14 British Isles 8, Rugby Park Invercargill, 11 June, 1966
Another tour opening which turned into defeat, the 1966 Lions began their 25-match tour, following eight games in Australia, at the bottom of the country and would have felt pretty low after the game.
In wet conditions the Southland forwards outplayed a highly rated Lions' pack as BJ Cullen scored a try to go with two penalties and a conversion.
35-year-old Robin Archer was the star for Southland, outplaying Irish centre Jerry Walsh.
The Lions would lose twice again over their following four matches with defeats the Otago and Wellington before losing the test series 4-0.
Wales 9 Taranaki 9, Rugby Stadium, New Plymouth, May 27, 1969
The first Welsh team to arrive on New Zealand soil had high hopes as reigning Five Nations champions and Triple Crown holders but failed to impress, losing the test series 2-0 with two heavy defeats in both matches.
Their opening game of the tour showed signs of things to come. It took place just four days after their arrival and they only managed one training session before taking on the amber and blacks in New Plymouth.
Brian Price and J.P.R Williams scored for the tourists but a Kerry Hurley try and a dropped goal and penalty from the boot of Barry O'Dowda was enough to earn Taranaki a famous draw.
Munster 12 All Blacks 0, Thomond Park, October 31, 1978
Perhaps the greatest upset of the lot, if only for the sheer romance of it.
The first Grand Slam-winning side were expect to breeze past Munster. However the pack led by captain Graham Mourie and lock Andy Haden, was smashed apart in front of a Limerick crowd at fever pitch. The recently deceased Moss Keane, Gerry McLoughlin and Pat Whelan tore into their work.
Out in the backs little Seamus Dennison knocked over the All Blacks' most potent attacking force, Stu Wilson, to set the tone. Christy Cantillon scored the only try. The All Blacks replied with exactly nothing, prompting Wilson's famous "We were lucky to get nil" quote.
As Munster celebrated, captain and halfback Donal Canniffe was informed his father had died suddenly during the match. The game has been immortalised by John Breen's hit play Alone It Stands and the best-selling book Stand Up and Fight: When Munster Beat the All Blacks.
Sydney 40 All Blacks 17, Penrith Stadium, July 22, 1992
A few All Black careers died a prolonged and agonising death in rugby league heartland.
With hindsight, when assessing the playing strengths of the two teams, this isn't much of an upset. But it was the scale of the defeat and the inability of the All Blacks to be even remotely competitive that was most shocking.
Remember, this was not even New South Wales, it was Sydney. Semantics? Maybe, but the composite side didn't muck around arguing the toss. Darren Junee scored three of Sydney's five tries, Frank Bunce's bete noir Michael Brial and halfback Anthony Ekert scored the others.
A decent pub quiz question, the All Black starting XV that fateful night was (from 15 to 1): Terry Wright, Eric Rush, Marc Ellis, Matthew Cooper, Eroni Clarke, Stephen Bachop, Jon Preston, Pat Lam, Dallas Seymour, Andy Earl, Mark Cooksley, Blair Larsen, Graham Purvis, Graham Dowd and Steve McDowall (c).
Ah, now it's becoming a bit clearer ...
Notable omissions
Hanan Shield Districts 21 Australia 9, 1949
Bay of Plenty 40 Australia 16, 1982
New Zealand Universities 21 Lions 9, 1977