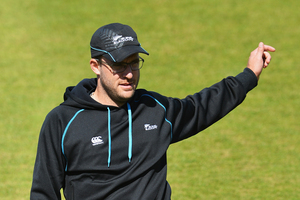 Daniel Vettori has had another saline injection in his left Achilles tendon as he seeks short-term survival at the Champions Trophy.
The veteran spin bowler received the pain relief treatment between New Zealand's one-day internationals against England at Southampton and Nottingham. He visited a specialist in London.
He made the decision after withdrawing from the opening one-dayer when he aggravated the injury at Lord's on match day.
The news comes as New Zealand prepares for their next Champions Trophy match against Australia in Birmingham. It seems logical for Vettori to be rested if it means he could be available later in the tournament to help New Zealand's cause.
The value of the Vettori-factor was evident during the one-wicket win over Sri Lanka and his fate forms a crucial sub-plot to New Zealand's chances at the tournament.
Vettori exerted the control fans have come accustomed to with the ball, taking one wicket for 16 from six overs. His arm ball to remove Mahela Jayawardene was a reminder of his guile, after turning the previous delivery past the outside edge.
His competitive instinct also took hold, snaring a difficult catch running back from mid-on to dismiss Thisara Perera. However, the way he hobbled around the field left doubt as to how long his troublesome Achilles tendon will last. The team treated him like precious cargo, based on back pats per capita.
"We want to keep assessing Dan, knowing how valuable he is to our set up and knowing the wicket will be similar to what we found today against England in Cardiff [on Sunday]," said captain Brendon McCullum.

"That's where the assessment at Edgbaston is important. If it doesn't have the same grip and stop that we've seen [in Cardiff] then we've got to weigh up the risk of playing him, knowing others could fill the void."

Next to McCullum, Kyle Mills has played the most ODI cricket with Vettori in the current team, dating back almost 12 years. Both are 34, and remain New Zealand's top two ODI wicket-takers. If anyone knows about career injury disruptions it is Mills.
He is finding it difficult seeing his teammate and friend in such pain.
"You only have to look at him. He's limping and is a bit ginger walking around the field. He's been doing it since his teenage years at this level and his body is tired. He shows tremendous toughness and hopefully he can rise to the occasion for these next games to get us over the line.
"He looked jovial getting his toast and cereal at breakfast this morning, but there's obviously a lot of discomfort. Just watching him bowl [against Sri Lanka] you can tell he's a class above anything else going around, really. I think he's crucial for our line-up. He adds so much leadership with his ability to take wickets and his composure in the middle of the innings. He also plays spinners really well and Edgbaston and Cardiff look like spin-dominated venues.
"I've watched Dan play a lot and love watching him bowl because of his accuracy. We saw that when he got Mahela out. That may have been the winning of the game."
With two wickets against Sri Lanka, Mills' tally of 24 in Champions Trophy matches equals the most anyone has taken since this tournament started operating in 1998. He is level with Muttiah Muralitharan.
However, he accepts his role in the team has changed with the arrival of Mitchell McClenaghan as a fellow opening bowler.
"I'm a different bowler to six or seven years ago. I don't have the same pace but I'm still trying to be crafty keeping the run rate down while Mitch attacks at the other end.
Something happens every time he touches the ball. I'm aiming to get through six overs to start and then come back to work in the powerplay at the end."
While bowlers get the advantage of two new balls in ODIs these days, Mills says the new restrictions can be tough to manage, where a maximum of four rather than five players are allowed outside the 30m circle at any time.
"Especially when a batsman's set," Mills says. "That's when they can be destructive. It's almost a case where the whole powerplay thing is not that important. Fortunately I had a decent taste of it last season with Auckland on some flat wickets."
Mills says an example was England's Jos Buttler making 47 off 16 balls including 22 off his final over in the third one-dayer at Nottingham.
"I put my hand up that I could've executed better. After a length ball first up he seemed to have a good read on what I'd do next and he was down for the scoop. You just can't protect every area of the park and that really cost us the game."