McCullum's relief at scraping home over Sri Lanka obvious after both sides' squandering of decision reviews.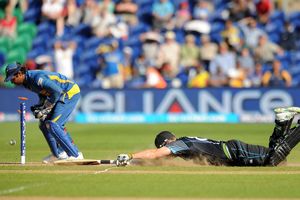 One lesson beamed out when, in the words of captain Brendon McCullum, New Zealand "got out of jail" with their one-wicket win over Sri Lanka at the Champions Trophy cricket tournament.
Treasure your solitary decision review. Carefree use by both teams meant they could not use the strategic play later, in situations which could have altered the course of the match. Howlers played a part instead.
Kane Williamson was always going to struggle to overturn a dipping full toss from Lasith Malinga. The delivery looked like it was using missile guidance homing technology aimed at middle stump. Williamson became disoriented with its flight and inadvertently ducked into it while crouching in front of the stumps.
The No3 wasn't totally at fault for his heat-of-the-moment decision. He discussed making the call with non-striker Martin Guptill who must have felt that it was worth a crack.
Using a review shouldn't be about having a crack. The DRS was originally designed as an avenue to correct grievous wrongs, not for rolls of the dice.
In Williamson's defence, it's sound tactics for specialist batsmen to be given more licence to use the review. At the time, 139 was perceived as a light chase and Williamson was a candidate for finishing the job. However, it didn't help Daniel Vettori when he nicked a Malinga yorker on to his pads only to be given out. Sri Lanka captain Angelo Mathews was overzealous reviewing a Williamson caught behind in the seventh over when the ball flicked his trousers. That haunted Mathews in the 34th over when New Zealand were 127 for eight and a Malinga thunderbolt appeared to pin Tim Southee's boot adjacent to the stumps.
A dominant bowling and fielding display plastered just enough big batting cracks to enable New Zealand to win a gripping contest. Tim Southee edged New Zealand to the win, finishing on 13. When last man Mitchell McClenaghan scampered for a close-run two in the 37th over, the New Zealand balcony betrayed a mix of euphoria and relief.
Sri Lanka were dismissed for 138 in 37.5 overs, the lowest total at the ground.