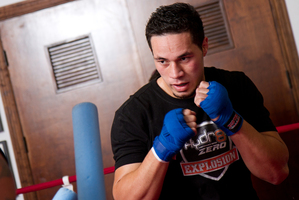 Joseph Parker claims to have no nerves ahead of the biggest fight of his career.
There is a fair bit on the line for the New Zealand heavyweight when he gets into the ring against Francois Botha at Auckland's Trusts Arena on Thursday night.
He has invested a lot - the stint in Las Vegas sparring against quality opposition which culminated in a points victory over fellow Kiwi Brice Ritani-Coe and a change in style to make better use of his tall frame.
The fight is also scheduled for eight rounds - the longest he has fought in his career were the six rounds against Ritani-Coe.
Yet he looked extremely relaxed and confident at today's official press conference in downtown Auckland.
Botha, 44, was in a jovial mood but his wisecracks at Parker's expense - mainly about his youth and inexperience - brought only smiles from the unbeaten 21-year-old.
"I'm just really excited to show what baby Joseph can do,'' Parker said, borrowing a phrase from Botha.
"I'm coming into this fight with no nerves. I'm not worried, I'm prepared. We had a great camp, there's no nerves, we're just excited about the fight on Thursday.''
His trainer Kevin Barry, who has been working with Parker for two months, said his charge had every reason to feel that way.
"If you prepare yourself well and work as hard as you can and achieve what you set out to do in preparation for a fight then you should be confident and relaxed,'' Barry said.
"There's only a need to be nervous and worried if you haven't done the work and Joseph has trained mostly three times a day.
Barry said of Parker's new stand-offish style: "Against the fighter with the experience and craftiness and durability of Botha we need to keep him out. He can't be fighting him in close quarters because then we'll have a really hard night.
"Joseph's a very quick learner. He's a very smart young man and what I like about him is that he has a fantastic training etiquette. He is not afraid to push himself. He sets very high goals for himself.
"A lot of fighters at this stage of their career could have been feathering their records to get to 10 or 15 and 0 fighting nobodies yet he was instrumental in saying yes give me this fight.''
Botha will have the unique experience of fighting after his son Marcel, as the 23-year-old welterweight features on the undercard.
Showing up early for the press conference, Botha worked the room in his usual style, though this time while wearing patent leather boots with a design more cheetah than leopard-print.
"After I knock you out, this is not the end for you,'' he said to Parker, tongue in cheek.
"I'm already speaking to Duco, I'm going to take you to South Africa, I'm going to feature you there. It's not going to be the end of your career, it's going to be your beginning.
"You'll say, 'I fought an experienced fighter, he spanked me, he taught me, he schooled me'.''
Asked about Parker's hand speed, the man who controversially lost to Sonny Bill Williams in February, said: "That doesn't mean anything. When a fighter goes against a heavy bag he can look a million dollars... when you put him against somebody, that changes the whole story.''
The compere suggested: "Maybe Joseph is looking at you as a heavy bag.'' Botha chuckled before replying: "Even baby Joseph is laughing about that.''
- APNZ