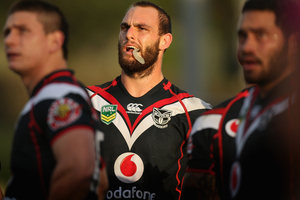 Simon Mannering has suffered a recurrence of the calf injury that kept him out of the Anzac test and, although he came through the 18-16 win over Manly, the Warriors hope he is fit for this weekend's match with the Roosters.
The Warriors captain sent a scare through the camp on Saturday when he strained his calf at the end of training and was rated a 50-50 chance of missing the Manly game.
He showed in that match why they need him on the field. He gave away a couple of penalties and handed possession over at one stage with an errant offload but his defence was exemplary and he pulled off a couple of try-saving tackles.
He also stiffened a right-side defence of Ngani Laumape, Konrad Hurrell and Shaun Johnson that Manly clearly targeted and has been an issue all season.
Mannering, in typical fashion, was downplaying the injury but they can ill-afford to lose him this weekend.
The 26-year-old missed Anzac test after injuring his calf in training and was also absent for the 28-18 defeat to Melbourne.
"It came out of the blue a few weeks ago for that Anzac week,'' he said. "It popped up [on Saturday]. It only made me concerned because of the previous history of it. Once I got warmed up [before the Manly match] it felt fine. I think it's just something I'm going to have to monitor through the week.''
It's something that has coach Matt Elliott's attention as well.
"He's playing that much field time now we really need to lighten his load during the week,'' Elliott said.
Mannering and the rest of the squad will get something of a break after Sunday's match against the Roosters but they don't want to go into that on the back of a defeat after all the good work of the last three weeks.
"It really makes next week [against the Roosters in Sydney] our most important game of the season,'' Elliott said. "We have a bye the week after that. People keep asking me about momentum and I really feel we are on the verge of gaining momentum.''
They have certainly boosted confidence. Beating an under-strength Brisbane outfit is one thing but they didn't really come under pressure in that match and got on a roll. Beating a near full strength Manly is a different proposition altogether, especially as they trailed 12-0 inside 20 minutes and hadn't beaten the Sea Eagles in the previous six matches..
"Personally, I didn't take much from that [Brisbane] game,'' back-rower Elijah Taylor said. "It was good to get the win but you knew that wasn't their top-dog side.
"The confidence is back and that's massive in the NRL, especially when you know you've beaten a team like Manly and they threw a lot at us. It's hard to get and now we've got it we need to keep the momentum.''
Fullback Kevin Locke, who missed yesterday's game with a hip flexor injury, should come back into the side to face the Roosters, meaning Glen Fisiiahi, who impressed at the back, will probably revert back to the wing.
It will be hoped prop Russell Packer will also be over his sternum injury, giving Elliott an almost full squad to choose from.
The Warriors will come up against a Roosters outfit also brimming with confidence. Sydney prevailed 16-14 at Eden Park earlier in the season and have since been on a terrific run of eight wins from their last 10 games to sit second on the table.
- APNZ