Andrew Alderson, in Cardiff, bowls down an over of key Champions Trophy cricket observations.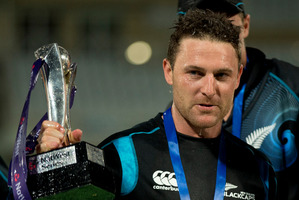 It's a hard job finding the perfect format
In a rarity for international cricket, there has been minimal criticism of the Champions Trophy format. World Cup organisers and sponsors take note: It is 15 matches across 18 days with a simple three pool match-semi-final-final combination. Teams can potentially lose one match to get to the final four, otherwise they're gone. It should prove tournaments don't need to expand beyond six weeks using layers prefixed by "Super" to buffer revenue. A short sporting event can still be good - look at the Olympics, the football World Cup, Wimbledon et al.
Ambassador McCullum
Brendon McCullum is enhancing his reputation as captain among overseas media who queue for press conferences because of his willingness to respond frankly and in-depth.
McCullum is living by the adage "you never get a second chance to make a first impression" with his charm offensive.
It has made New Zealand seem like a team which is open to ideas and endeavouring to improve at any opportunity.
The flipside is McCullum will see this tournament as a chance to back up his words with the action of improving his ODI tournament record.
In 28 innings from three World Cups and three Champions Trophy tournaments before last night, he had never made a half-century against a top-eight nation. He made 52 not out against Canada at the 2007 World Cup, along with 101 against Canada and 76 not out against Zimbabwe at the 2011 edition. Admittedly most of his innings have come batting down the order, where it is harder to make bigger scores.
Indian summer
The defending World Cup champions started ordinarily in the absence of Sachin Tendulkar, Gautam Gambhir and Zaheer Khan. Eventually they negotiated South Africa's bowling sans Dale Steyn to post 331 and win by 26 runs. Shikhar Dhawan (114) and Rohit Sharma (65) made the first century opening stand against South Africa in more than two years. Captain MS Dhoni remains a calming influence.
South Africa stutter
It hasn't reached the Chicago Cubs standard of not winning World Series since 1908, or that of the England footballers who won their solitary World Cup in 1966. However, South Africa must be feeling the pinch when it comes to international cricket titles after losing their opening match to India. They won the original Champions Trophy in 1998. Unless they can produce victories against the West Indies and Pakistan this week, little will change.
Anglia's Ashes
The Independent's cricket writer Stephen Brenkley summed up the feeling ahead of Australia's 48-run pool match loss to England at Edgbaston.
"It all starts here. The long and winding road - covering 26 matches, 66 days of playing time spread over almost nine months at 16 different grounds - will have its ribbon-cutting ceremony."
A portion of the thinking is based on history. England defeated Australia by six wickets at Edgbaston in the semifinals of the 2004 Champions Trophy. It's seen as an influential victory which generated belief ahead of the victorious Ashes campaign the following year.
How bizarre ... [NO BALL]
Did anyone else note Pakistan's curious scorecard in their opening match where they were dismissed for 170 by the West Indies?
How peculiar to see top batsman (Misbah-ul-Haq) get 96 not out, the next best scorer (Nasir Jamshed) get 50 and no one else (including extras) get above six. Rare ...
Goodie bag
Who would complain about a goodie bag? Miserable journos, that's who ... just a minor observation about the placements of team names and symbols on the gift hat. England and India get prime spots on the front with South Africa, Australia, Sri Lanka and Pakistan in close proximity across the crown.
So what about New Zealand and the West Indies? They're situated on the back closest to the spinal cord. Fortunately the complimentary gold-coloured USB drive makes up for such bias. It is shaped like a cricket bat and houses the necessary tournament files.