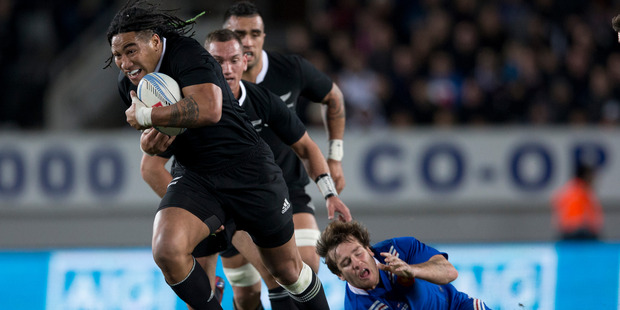 The fend, the pace, the backing up; it all happened in one movement but there was enough to suggest the essence of Ma'a Nonu remains despite a season with the Highlanders which, in his words, "hasn't been great".
That little snapshot just before halftime which led to Sam Cane's try allowed the All Blacks to take a grasp of the match and showcased all that is good about Nonu. Just ask poor old Camille Lopez, who felt the full force of Nonu's hydraulic right arm.
Afterwards the 31-year-old Nonu wasn't exactly doing somersaults, however. He knows more than anyone not to get ahead of himself.
"I thought I had a few good patches of play. I'm still a bit rusty and I dropped a few balls," was his summary after saying he was keen to get his hands on the ball early and run himself into a bit of form.
"I just wanted to get into the game. It hasn't been a great year, I'll admit that.
I've worked a lot harder this week in terms of being in this environment and it's good to be in the All Blacks where you get all the help you need."
Nonu did not elaborate on whether that was a reflection of Jamie Joseph's outfit in Dunedin, who have won only two games all season, or whether it was simply a change of environment that was helping.
After stints at the Hurricanes, Blues and now the Highlanders, Nonu's future will remain the subject of great scrutiny, which is partly why he likes being in the All Black environment. He can be just a cog in the wheel.
Nonu, who has played 77 tests for the All Blacks, paid credit to an excellent France defence which kept his side tryless in the second half.
He said his midfield opposites Wesley Fofona and Florian Fritz played well, the pair taking advantage of Nonu's collision with Cane to score France's try. He also noted that 122kg Mathieu Bastereaud was still to come for France.
Nonu said his fitness needed work and suggested his knee was not 100 per cent right. One of the biggest factors in performing, though, was the mental side of the game.
"You have to keep improving year in, year out," he said. "I'm the first to admit it. The older you are the harder it gets."
- APNZ