Coach sees momentum as home side overcome top defensive team to make it three wins in a row.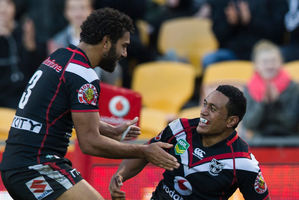 The Warriors showed last week they can do style with their big win over Brisbane, and yesterday they proved they can do substance with a grinding victory over Manly.
They showed plenty of character to come back from an early 12-0 deficit against the best defensive team in the competition. Manly don't normally give the opposition an opening but the Warriors found a way.
It meant they won their third-straight game for the first time since July 2011 and it was their first over Manly in the last seven games between the two sides.
It saw them take another step up the ladder and they are now, despite their woes earlier this year, in sight of the top eight halfway through the season. They are building nicely and appear to have proved their humiliating defeat to Penrith three weeks ago was simply an aberration.
"I wouldn't put it down as a slick performance but I would put it down as our most meaningful [win] of the year by far," coach Matt Elliott said.
"Not because we got everything right but because it's Manly. We have been in that situation a fair bit this year, and on five other occasions we didn't come through in the last 10 minutes.
"I'm just really proud of the guys. That was a high-quality team we played tonight. We probably didn't start in the fashion we would have liked, and to come back from 12-0 against a team that's noted for when they lead you don't catch them was a real indication of where the character of the Warriors is heading.
"It really makes next week [against the Roosters in Sydney] our most important game of the season. We have a bye the week after that. People keep asking me about momentum and I really feel we are on the verge of gaining momentum."
Manly had all of it in the early stages of this match as they jumped out to a 12-0 lead inside the first 20 minutes and many began to wonder if they were watching the "real" Warriors.
But the reality is they didn't see the ball. The Sea Eagles were ruthless in their execution and also enjoyed a slew of penalties. In one period, they had possession for 13 of 15 sets and the Warriors' line couldn't hold as Justin Horo and then Peta Hiku crossed.
But momentum swung wildly as the Warriors enjoyed possession of their own - they had 12 of 14 sets as Manly infringed - and scored through the impressive Elijah Taylor and Glen Fisiiahi, who played at fullback for the injured Kevin Locke.
The second spell was a grind as neither side would relent but Manly's inferior completion rate, which was just 50 per cent in the second spell, got them in trouble and they finally cracked in the 68th minute when centre Konrad Hurrell bulldozed over and around five would-be tacklers.
Manly responded with a try to Steve Matai to set up an even tenser finish but Jamie Lyon couldn't convert from the sideline.
Manly coach Geoff Toovey said before the match he thought the Warriors had the potential to win this year's competition.
That is still a little premature, but they have at least restored faith and credibility and that shouldn't be underestimated.
Warriors 18
Sea Eagles 16
- APNZ