Coach Hansen hints at 'one or two changes' as experienced campaigners become fit for second test selection.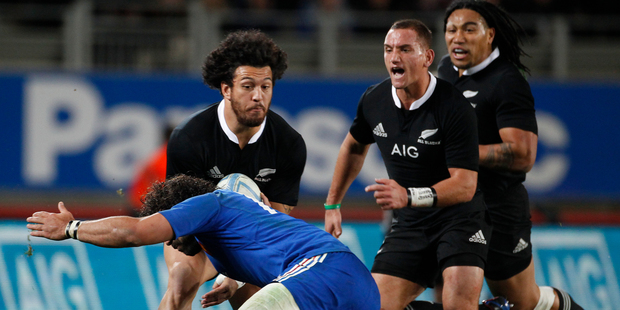 An initial All Black victory carries a range of dividends - the injury count is clearing, rookies claimed more experience and the staff have plenty of detail to sharpen.
In coach-speak it was a win-win, even if the 23-13 Eden Park test was often more tedious than inspiring. There was plenty of physical clout but the lack of polish was widespread.
Scrum resets, turnovers, lineout flaws, spilled ball - the defects list had an upward graph to unsettle both coaching groups.
The test caravan shifts to Christchurch this week for the second chapter in the series with the All Blacks confident that halfback Piri Weepu and prop Tony Woodcock will be fit for selection.
"There will be one or two changes because people are coming back from injury but by and large we will look to have some continuity," All Black head coach Steve Hansen said.
Substitutes such as Rene Ranger had delivered some great impact and that was the sort of influence the team wanted from their bench.
"You can think of it two ways - what a bundle of energy to be able to put out there after 50 minutes and really cause havoc; or do you put him out at the beginning?
"That's the conundrum. I think just at this stage we need to make sure we're not creating a whole lot of new things, and we've just got to embed the things we're trying to do and get them right.
"But his energy coming off the bench is pretty spectacular, if he does that every week. That might be the role he has again next week, we'll just have to wait and see."
The coaches were more concerned about refining the work the All Blacks had started, making sure they were much more accurate in all areas and nailed down that detail.
"It did not flow and it wasn't a hundy [per cent]," Hansen added. "But there are opportunities if we modify a few things and get rid of the unavoidable errors."
Turning the ball over at breakdowns was high on the fix-it list, a necessary repair job for the All Blacks to operate their game plan. Ball security, staying on their feet and getting numbers to rucks were all areas to overhaul.
Referee Wayne Barnes was liberal about players entering the rucks from all angles and what they did there but they needed to adjust.
Hansen did not mention any more about Barnes but had Louis Picamoles scored to level the game in the last quarter, there would have been some discussion, a la 2007, about the forward transfer from Adrien Plante to Florian Fritz.
The All Blacks were not about adding new ideas. The plan was to get more discipline about their methods.
France brought plenty of passion, they had a powerful pack and split the All Blacks in midfield. They would expect to improve as well.
If Hansen marked his side, it would be hard to find any more arresting contributors than Brodie Retallick and Ben Smith.
Both were in perpetual motion with Retallick's coverage of the field outside his core duties most impressive again.
Smith, too, shows all the poise and instincts you want from someone in the back three.
He does not overplay his efforts but he is always ready and thinking about how best to be involved. Unlike Julian Savea, play ran Smith's way but he also made things happen.
"It was a great occasion and definitely my best test in the black jersey," Smith said.
If the backs got better timing for their moves, he was sure they could inflict some damage in Christchurch.