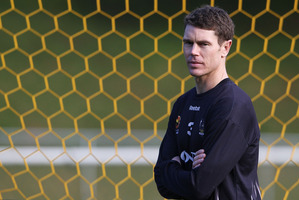 All Whites defender Tony Lochhead is set to be one of the first casualties of the new coaching regime at the Wellington Phoenix.
The Phoenix stalwart was a virtual fixture for six seasons under previous coach Ricki Herbert and has played more for the Phoenix than anyone else - but is unlikely to be retained by new manager Ernie Merrick.
The 31-year-old has made 131 A-League appearances for the Phoenix, a regular at left fullback since 2007. However, Merrick is understood to have put emphasis on youth and will give Luke Rowe and Ian Hogg the chance to stake their claims.
Lochhead has been a reliable servant for the club though he had a disappointing season, by his standards, last year.
His continued presence for club and country has bemused some fans; he has been a solid player, maybe not as good as his appearance record might indicate but nowhere near as bad as his detractors claim.
To his credit, he has been remarkably durable, averaging more than 21 games a season over six campaigns.
There is also no doubt that the Phoenix have struggled without him on the occasions when he has been absent through injury.
Renowned as being the fittest player at the club, with a huge engine, he has been less inclined to get forward in recent years. Though it is not his principal role, the attacking side of his game has become more limited in the past two seasons and during his long stint, he has managed just one goal (in his first season).
The departure of Lochhead, who has also won 43 caps for the All Whites since 2003, and the retirement of Mark Paston leaves defensive midfielder Vince Lia as the only remaining foundation player at the Phoenix. Lochhead came to the club after a brief spell at the New England Revolution in the MLS. He also had a trial at Premier League club Middlesbrough in 2008 but didn't land a contract.
Other players likely to be released include Spanish import Dani Sanchez, American forward Alex Smith and Australian defender Jimmy Downey. Attacking midfielder Isaka Cernak, who impressed as an injury replacement last season, has signed with Perth while striker Corey Gameiro's loan deal won't be extended. Lucas Pantelis is another who won't be retained.
Hogg is currently out of contract but will be given time to prove himself before the club commits to a new deal.
The Phoenix squad reassembles tomorrow, though there will be a number of absentees. Tyler Boyd and Louis Fenton are off to the Under-20 World Cup, while Jeremy Brockie (Toronto FC) and Michael Boxall (Oakleigh Cannons in the Victorian Premier League) are on short-term loan deals and new signing Carlos Hernandez is still in India.