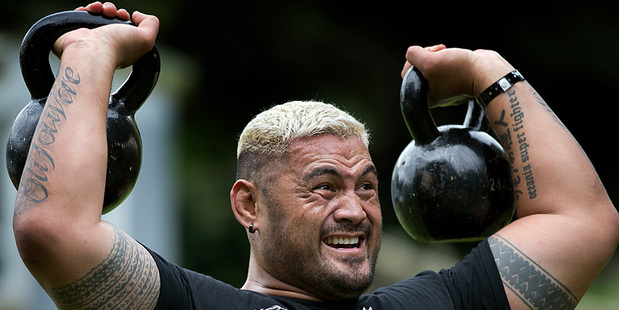 Mark Hunt hasn't lost any confidence following his knockout loss to Junior dos Santos at UFC 160 in Las Vegas last month.
The Kiwi mixed martial arts fighter is spending the next few weeks in New Zealand as he catches up with family following his heavyweight clash with the No 2-ranked dos Santos that was high on entertainment and heavy strikes.
Hunt was floored late in the third round by a dos Santos roundhouse kick and the Brazilian followed it up with a vicious right hand to the South Aucklander to wrap up the win.
Aside from a concussion, Hunt, 39, was left with a badly fractured big toe, which he suffered in the first round, while he also has six stitches in one of his legs and picked up a nasty infection in the other after the bout.
Hunt has been given a mandatory stand-down period from doctors following the brawl, which earned 'Fight of the Night' honours, and will spend the next few months resting up.
"I've got a real hole in my leg," he said of the infection. "The hole is pretty big. It's ridiculously big. I don't know what the hell happened ... It was only a bruise when I got off the plane so I just have to wait until that heals itself and go from there."
Looking back at his loss to dos Santos, Hunt offered no excuses, despite a bizarre visa issue delaying his entry to the United States by two weeks, which could have left him jetlagged in the lead up to the bout.
"I broke my toe in the first round and it was all over from there. From then on I didn't know it was broken actually and he started getting a lot faster and I was like 'woah, I thought I was fast' and I seemed to be getting slower and I couldn't get close to him.
"The funny thing is I still feel like I'm better than him, even though he knocked me out ... I'm not going to use the broken toe or jetlag or any excuses, I just kind of feel like that. It's kind of weird though."
The defeat marked only the second time in his 17-fight MMA career that Hunt was knocked out and the loss pushed him out of the top-10 ranked heavyweights in the UFC.
Despite the loss, Hunt, who has five fights left on his current UFC deal, remained confident he could push his way back in to the top echelon of the division.
"I've got five more fights, I still feel like I'm the best fighter in the world for some stupid reason. Even when I lost six times in a row [between 2006-2010] I still felt the same way. So there must be a reason why I'm feeling like this.
"I've got enough fights to do it so it'll probably take three or four fights to try and get back in to the mix of it and we'll go from there."
Hunt, who is 4-2 in the UFC, won't be spotted in the cage until the end of the year and is likely to be included on a UFC card in December when the promotion returns to Australia for an event that will be held in either Sydney, Brisbane or Adelaide.
Given Hunt is based in Sydney it's a logical point of return for him but just who he matches up against will be of intrigue.
There have been calls to put him in the octagon with American Roy 'Big Country' Nelson, given the pair share similar dimensions with the 19-7 Nelson standing 1.83m and weighing 117kgs to Hunt's 1.78m and 120kgs.
Hunt's long-time trainer Steve Oliver said their camp didn't want to be drawn on a specific fight for their prized possession but said the UFC made matches based on styles.
"I think Roy Nelson would be a good fight. There's a been a lot of talk about a lot of different people so you don't like to get too involved in it," Oliver said.
"But I think Roy would be a good fight, I think they're both going to stand there and bang."
Nelson is due to face Stipe Miocic at UFC 161 in Canada next weekend.
- APNZ